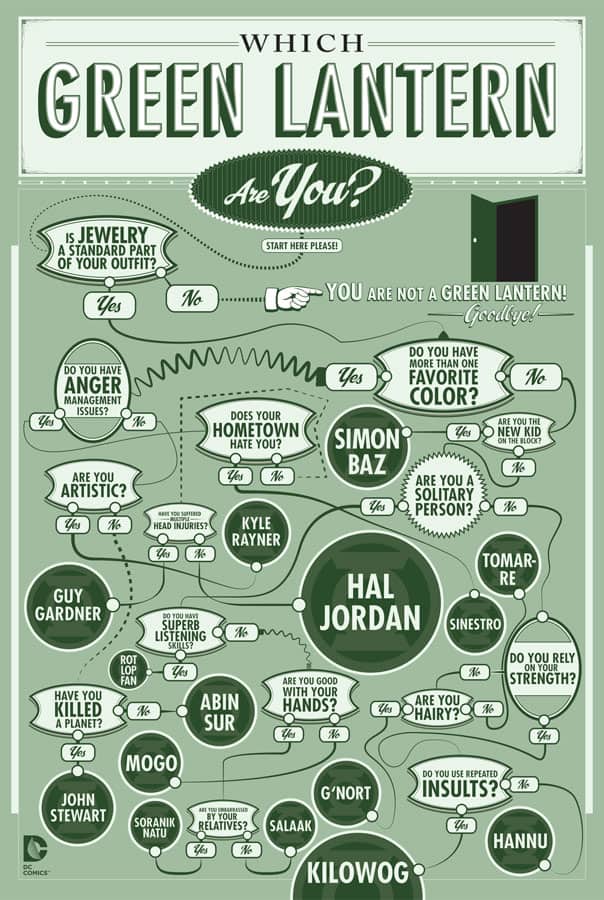 Admit it, you followed whatever line corresponds to your lifestyle or your personality and either didn't like it and followed another line or accepted it and had a good laugh. It's okay, a lot of us as we were growing up wanted to be a superhero, and the Green Lantern was one of those that might not have always been the most prominent, but he was definitely one of the most popular after a while. It's too easy to think that not all of us might want to be as honest as possible when following whichever line we think represents us, but personally, Kyle Rayner isn't too bad of a result since he did happen to become a popular character in the comics at one point. It's likely that a lot of people would want to be Hal Jordan or one of the other popular Lanterns, but if folks are honest they'd probably fall into one of the other character bubbles. At that point, it might be that someone fell on a name that they know nothing about unless of course, they were a DC fan and a big Green Lantern fan.
One has to wonder how much longer it's going to be until DC comes up with a Green Lantern that's not going to be reviled by the fans and will become another part of the Justice League if, in fact, that plan is still moving forward. Even mentioning the Ryan Reynolds attempt is enough to make people cringe openly since the movie was so universally hated that it wasn't much of a big deal that Reynolds went ahead and made a post-credit scene about it in Deadpool 2. Yes, it was funny, no matter how brutal it was, and people loved it. Green Lantern has had a place in just about everywhere but the live-action movies at this time, and it's a big hope that this will be put to rest eventually since people do want to see him, but it's kind of hard to think of how demanding people are being when it comes to CGI.
True, bad CGI vs. good CGI makes a huge difference, but it's also a dividing line that feels a little bit ridiculous, but arguing about that with DC fans is about as much fun as arguing with MCU fans about time travel and the continuity errors that pop up from time to time. Right now it's simply a hope that the next Green Lanter appearance in live-action will be able to wow the fans in such a way that they'll be instantly accepting of it. That's asking a lot, to be honest, especially given that DC is kind of a mess right now with only a handful of successful titles no matter how much money they've earned from the entire lot of movies they've pushed to the public. In a big way the haphazard manner in which DC has presented their material, and the fact that there are few if any, real lead-ins to their material, makes it hard to see the DC universe as anything but a large collection of standalone stories that aren't meant to touch one another no matter how much they're supposed to exist in the same universe.
Looking at how many different versions of Batman there have been, and Superman and one will understand that while the infinite earth's story is an interesting one, it's still the only real cohesion that's been offered up by DC since they first came on the scene. Even Justice League didn't feel as though it should have come together as it did, but that's neither here nor there now since it's been done and over with for a little bit. What's really frustrating about DC, and even the MCU, is that their inability to connect to the source material in a meaningful manner has threatened to derail their attempts to bring worthwhile stories to the fans. Marvel has definitely worked to create a way that fans can still care about their favorite heroes even if their stories have been skewed a bit here and there. But DC, huh boy, they've gone off the rails a time or two, and it's been hard to watch.
Anyone pointing out box office numbers needs to stop, right now, and realize that the truth is that box office numbers can be misleading. If unsatisfied moviegoers were able to get their money back it feels that things would be a little more accurate since the displeasure felt by many fans during the release of a few of DC's movies would have seen a great number of refunds and far fewer profits. Green Lantern's movie might have ruined the studio in that case. So the hope, once again, is that GL will be given a better representation next time it happens since quite honestly he is a cool hero.