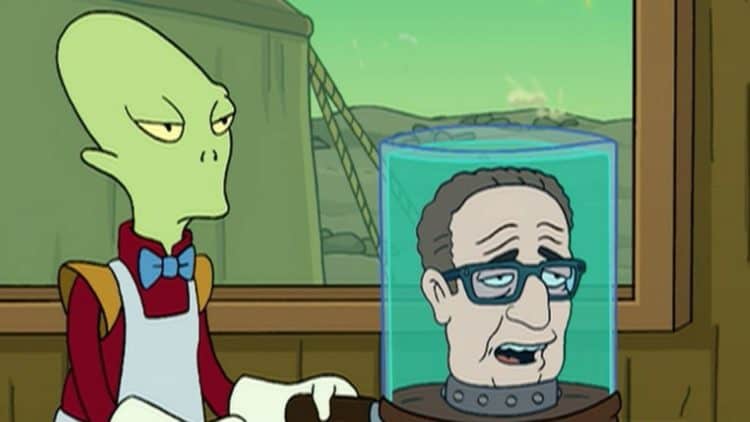 Maybe it's from a lack of screenwriting experience or maybe it's from the lack of caring as much about Futurama as much as many people did (yes, I said it), but taking two days to come up with a single joke is both understandable and kind of hard to grasp at the same time. Considering the nature of the line that was devised for the head of Henry Kissinger (preserved heads were a big thing for this show) anything with the word 'grasp' in it was either going to be shunned or embraced as something that could have handled the situation in a manner that would have been deemed as brilliant, which is why my confusion is so great when the number of puns that the writing room must have seen come and go had to have been immense. But two days to come up with the greatest line for the moment is hard to fathom simply because with enough writers in a room it feels as though something should spark at any given time unless they're all synced in a way that makes it nearly impossible since free thought is still a capability they possess, but at the same time unless there's someone thinking outside of the box, it's bound to take a while. Two days to come up with a joke is hard to imagine since many people would like to think that a writing room is a hotbed of ideas where writers are coming up with new and innovative ways to tell a story every day.
That's not really the case though. There are plenty of ideas about what a writing room is supposed to be like, how it's supposed to work, and how many people it takes to produce a show, or even just an episode, that will entertain the masses. Procrastination, boredom, infighting, and many other things go on in a writing room, along with a few good ideas that come along now and then. If anyone is thinking that magic happens in a writing room that often though, one only has to look at the many episodes that come across the screen to realize how much compromising is done on an average basis since to get an episode out, everyone has to be on the same page for the most part, and that doesn't feel as though it's bound to happen that often, at least not until a great deal of arguing has gone into the process and ideas have been thrown about and cast aside countless times until feelings and nerves are rubbed raw over what should happen versus what will happen. Hell, any average writer can tell you what it's like to hold court inside their own head when they're trying to figure out what to write and why, so a room filled with several other people that are either ensconced in their own heads or trying desperately to connect with others is going to be a madhouse. Some people thrive there, and others find that they can't hang with it after a while.
The fact that this one joke, in particular, took two days to write out isn't bound to be the long wait for that 'aha' moment, it's more likely that it was a continual back and forth argument over what works and what would be allowed on TV since hearing that it was a fun and engaging process from the producer or the showrunner is a way of saying that they're lucky that murder is illegal since otherwise, it feels as though some writers would gladly commit a felony to get their point across. That's the process of being a writer, it's not a practice that allows people to simply sit and discuss ideas in a happy go lucky kind of way all the time, but that's certainly the picture we're given when some writing rooms are seen to be fun and engaging for as long as it takes to get the picture. On average a writer's room is likely kind of tense as they try to figure out just which direction to take, which ideas to implement, and why one way will work but another won't. The kind of inspiration that's needed to tell a masterful joke that will work perfectly can take a matter of seconds or days, so condemning the idea that this took more than one writer two days to come up with isn't the goal, but trying to fathom how more than one person couldn't come to this conclusion sooner is a bit confusing.
Futurama was definitely made for a different crowd and it was a show that many people loved during its time, but despite those that are wanting to see it come back, it's a hope that it will stay gone this time, if only because it's been long enough that picking it back up would be a huge undertaking.