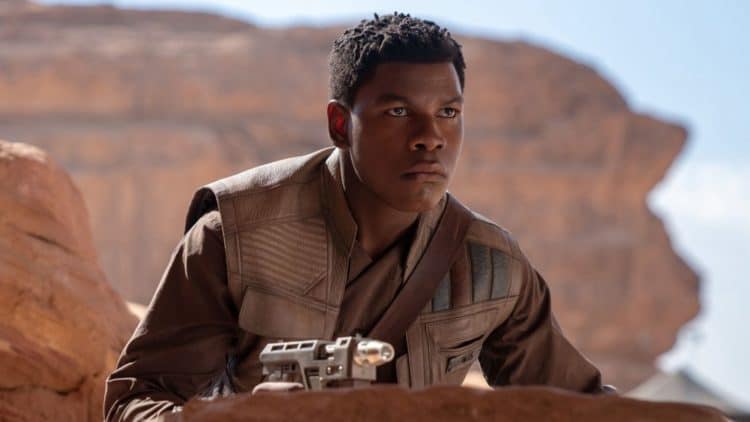 It's interesting how John Boyega was given a role in one of the greatest franchises in movie history, was front and center for a good chunk of each movie and is somehow still not satisfied with his time in Star Wars. A lot of people are hopping on the wagon to agree with him that somehow he was 'pushed aside' and otherwise relegated to a less important part, but one thing that a lot of people appear to be forgetting is that he wasn't treated that badly in the movies. In The Force Awakens he had a chance to appear before Rey, he got to stick with Rey, he was given the chance to work with Han and Chewie, and then, even as a non-Jedi, he was allowed to square off with Kylo Ren, an actual Force-user. Now if they would have had Kylo slice him in half or outright kill Finn as would likely happen to many opponents, that would have been tragic. But Boyega had a few very interesting and meaningful scenes in the movie, and that's not where his inclusion stopped. The second movie featured Finn fairly prominently as well, but the narrative belonged to Rey and Luke since the buildup of the story at that point was finding Luke Skywalker and trying to get him to train Rey. See how that doesn't really involve Finn as much? But hey, he had the chance to help the Rebellion along with Rose and even have a pretty decent fight with Captain Phasma, but apparently, that wasn't enough.
Then came the Rise of Skywalker, and yes, Finn was, no wait…he was actually still there and still noticeable. Did he become less important? Well, since it was established that Kylo might have killed him in another go-around and that he was important to the Resistance but wasn't a Jedi, then yes, he did become a little less important in one capacity, but he became important in another one since he was one of the many that had the chance to bring down the ships that the Emperor had been amassing. In short, Finn became important to complete other tasks in the movie that weren't beyond his abilities and were well within his wheelhouse. But hey, that must mean he wasn't as important, and he was 'shoved to the side'. Is anyone else tired of Boyega whining about how he was pushed to the side, especially since he was a prominent character in all three movies? The idea of having him come back to voice an animated Star Wars series that sees Finn and Rose liberate Coruscant could be a good idea, but his disdain for his part certainly didn't keep him from trying to break a contract and simply bow out of the movies, did it? He took the money and decided that he was fine where he was it sounds like, so the criticism he's decided to level at the franchise at this point sounds like so many sour grapes. Boyega, who is riding a successful career at this point, might not have been nearly as big of a name had he not been a part of the Star Wars franchise, so complaining in this manner should be a bit confusing to some folks, but instead many people are embracing the idea that he was given the shaft.
If anything, Finn should have taken a few lumps from his fellow stormtroopers when he was discovered at Maz Kanata's castle, Kylo should have killed him, and Captain Phasma should have just about killed him since in her own book, Phasma is the definition of tough, and ruthless. To be certain, Boyega should be saying 'thank you' for the fact that his character was made into someone that could go toe to toe with a couple of the best fighters in the current trilogy and survive. Plus, how many people can say they had the chance to work with the legendary duo of Han Solo and Chewbacca? Right now Boyega's desire to look back on his time in Star Wars is enough to make a person shake their head and wonder what's going to be enough. Finn was given the chance to open one of the most expected movies of the year, and to be honest, he was a fun character to watch and someone that had meaning within the franchise throughout each movie, but again, that obviously wasn't enough since he wanted his character to either be the savior or to be the grandstanding hero that he didn't get to be in the trilogy. But wait, wasn't he the guy that was willing to sacrifice himself in each movie for a noble cause? Yeah, that's right, he was. But hey, like always, that wasn't enough apparently. At this point, one wonders if anything will be enough, or if Boyega will continue to look back and state that his roles weren't treated with the right amount of respect.