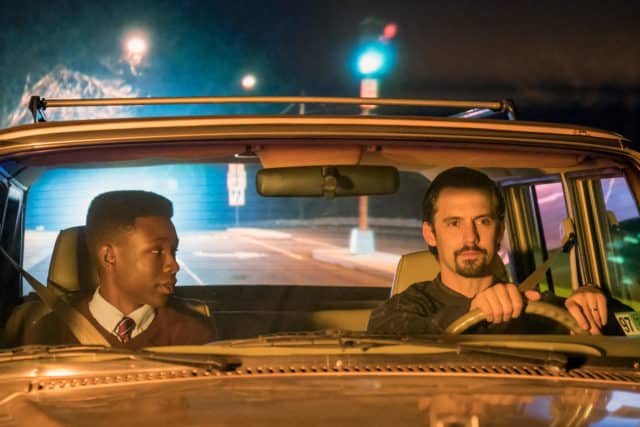 It's been a tough few weeks on This Is Us during the first two parts of this trilogy arc. Every small moment in the first seven episodes of the season has come to a head for each Pearson sibling. We were left distraught over Kevin's growing addiction. We were wrecked by Kate's tragic loss and ultimate triumph. "Number Three" takes a different turn. Randall's journey, both in flashbacks and in the present, was bittersweet. Instead of having something happen to him, Randall had to make some very difficult, conscious choices. It rings true for who Randall is. What Randall can't plan for is something that Jack reminded him of years ago. As much as Jack loved his kids, and as much as it seemed like he the perfect dad to each of them, he couldn't be there for each child 100% of the time. Just when it seems like your focus is centered, you turn around to be blindsided.
They say that nothing can prepare you for being a parent, and that is especially of foster parents. It comes with its own set of rules, its own unique challenges, and no one situation is the same. Supposedly there is a guidebook, but that really does nothing to answer the hard question of what is best for a foster kid. At the beginning of the episode, Randall is convinced that means Deja staying with him and Beth. It's not as if Deja's mother makes a very good case for herself, coming over to Randall and Beth's house with an attitude. That kind of behavior is not cool with them, and doesn't make them at all inclined to just hand Deja back. Remembering a conversation with William makes the difference with Randall's resolve on this issue. William didn't just know Randall was out there, he knew exactly where to find him. The beautiful 'what if' picture of Jack, Rebecca, and William standing side-by-side for all of Randall's important moments was too emotional for words. It just wasn't meant to be.
For as much as Randall has wanted to honor both of his fathers, he can't make his decisions based on the ones they made. He has to use the advice they gave him and apply it to the situation at hand. What Deja truly needs is to be with her mother. Maybe Randall and Beth will get their chance to make a permanent family of five one day, or maybe they'll prefer being the safe space for a child who needs one. Either way, they've done the best they can. Luckily, Randall and Beth's best is pretty near perfect.
In talking about balance, we once again flash back 20 years in the past. Now we know everything that is happening in the Pearson house at this time. Every Pearson teen has college on the brain, Jack takes Randall out of town to look at colleges, and Kevin breaks his leg while Kate and Rebecca make inroads. We finally got to see what made that weekend trip so special for Randall. On track for the Ivy Leagues, Randall decided to explore Howard University instead. He grew up in a white family, in a predominantly white neighborhood. It makes perfect sense that he'd want to discover his place as a young black man at a school with predominantly black students. It's the balance of discovering his identity, between his adopted and biological family, as well as his transition from boy to man. It's not as if Jack doesn't know something about feeling off-balance. As a recovering alcoholic who served, and lost his brother, in the Vietnam War, Jack can relate to feeling out of place. That's not something he wants Randall to feel forever, but he knows that it comes and goes in the roller coaster of life. Because of the collective experiences Randall had, he's a better man.
Randall and Kate found their peace. No one has noticed that Kevin has not only lost his, but is spiraling out of control. There had to be a wake-up call, but did it have to be a literal call between Beth and the police, explaining why her daughter was in the back of a car with her drunk uncle? That is not a wake-up call. That is a warning to hide the knives in Beth and Randall's house so they don't strangle Kevin for endangering their child's safety (to be fair, he didn't know she was in the car).
Is this Kevin's rock bottom, or does he have further to fall?
This Is Us Season 2 Episode 10 Review: "Number Three"
Summary
"Number Three" makes a difficult decision based on both of his fathers' advice on the midseason finale of This Is Us.