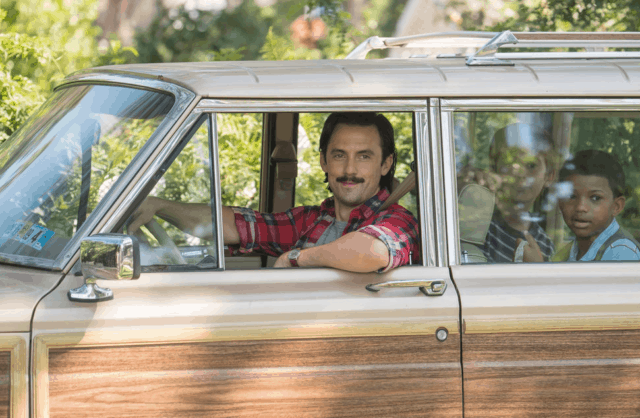 Good news, This Is Us fans: I am not losing my eyesight. That two-second glimpse we saw of Jack in a combat uniform a few weeks back was in fact real, and opened up a much bigger picture about Jack's past than we could have imagined. A much bigger picture formed through the story of the Pearson family patriarch trying to bring 10-year old Randall and Kevin together. While we see the Pearson family is expanding in the present, we know now that there was another member of the family lost along the way. When Jack Pearson talked about the importance of brothers looking after each other, we had no idea he was (SPOILER ALERT) speaking from personal experience.
Jack hopes that his camping trips with his sons will be different than his father's failed attempts, which is why he stays when Rebecca calls to tell him his father is in hospice. You could make the argument that Jack would regret not going to his father's bedside, but he wouldn't. He would regret doing the same thing to his kids that his father did to him. We knew Jack measured his success as a father by following the opposite example his father set, we just had no idea how much. Jack was indeed a soldier, but he wasn't alone. He had a little brother by his side, Nicky. Given the timing, and the fact that this is the first time his brother is mentioned, we can surmise that the two brothers were smack in the middle of the Vietnam War, and only one made it home.
This is why Jack becomes so determined to straighten out Kevin's attitude. He knows from personal experience how important the bond between brothers is. Kevin has his own pain, which we see started when he was young. He couldn't articulate why he picked on Randall, but you could tell he felt bad about it. The more we see, the more we realize Kevin has always been a person who turns his pain inward. He tries to shut it down, to drown himself in nothingness, and that has manifested into what we see now. Kevin already has a proclivity towards addiction because of Jack, and the more he tries to hide it, the more he will spiral.
Now his own children are grappling with being parents too. Though Randall is already a father, it is a much different feeling when the child you raise is not your own. There are literally a set of whole other rules to follow. Foster children have different experiences, unfortunately, very few of them good. Randall brings Deja to Sophie's gala hoping to form a connection with her, but his innocent actions with a shrimp cocktail cause Deja to jump and run to the ladies's room in fear. Foster children who have experienced some abuse (which unfortunately is the majority) do not like to be touched or grabbed, even if it is just to be shown something. Even in the worrisome state he is in, Kevin does a good job of encouraging Randall to not be afraid of being there for Deja. There is nothing wrong with caring too much. Randall just needs to learn to go about it in a different way with Deja.
Jack should be here to see Kate. He would have been the first to congratulate his daughter on her pregnancy. The poor woman is so terrified that something could go wrong, that she won't let herself feel any joy. Taking her anger out on the skinny girl in her overweight support group is the only way she knows to deal with her emotions, but of course she wants this baby. Toby being the man we know and love, has the perfect reaction through and through. He could not be more thrilled to be a Dad, or more supportive of Kate's feelings. Perhaps Kate will have a boy and continue the tradition.
Brothers, fathers, and sons. Did you see that expanded family twist coming?
This Is Us Season 2 Episode 5 Review: "Brothers"
Summary
This Is Us offers up a huge twist about Jack's early years, and why his sons' brotherhood was so important to him.