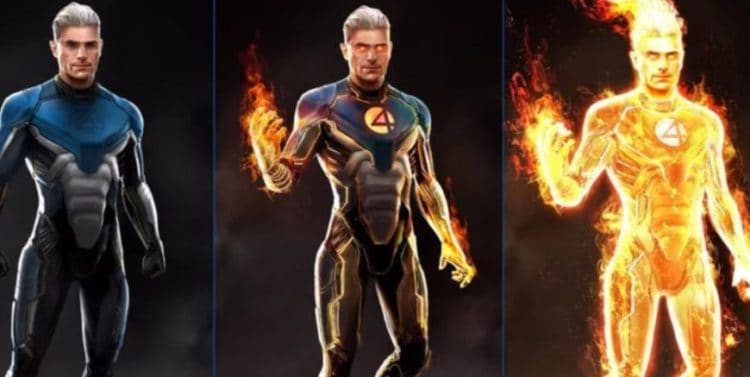 Zac Efron as the Human Torch? Yes please, but not for the reasons that some lovestruck teenage girls might want, but more because he's perfect for the part. Chris Evans wasn't too bad and Michael B. Jordan was a new face to role, but Efron has them both topped in matters of ego and being able to play the part perfectly. Anyone that wants to state that we went from having a white man then a black man and are now BACK to thinking of a white man for the role needs to check themselves before flying off the hook. If you want the origins of Johnny Storm then go and read a comic book since like it or not, the entire Fantastic Four did start off white and didn't change for a long, long time. The source material is still important like it or not, and for Johnny Storm, Zac Efron would be perfect since he has the look, he can create the attitude, and the arrogance that Johnny was known for at times. Jeremy Dick of MovieWeb makes it clear that the roles of the FF haven't been fully decided upon yet as the movie won't be coming for at least another couple of years if not longer, but people can still dream.
At this time a lot of people would love to see John Krasinski as Mr. Fantastic and Emily Blunt as the Invisible Woman as well, though there's a bit of an argument over who would be the perfect fit to play Ben Grimm, aka the Thing. In this case it would likely be someone that's fairly big but not so overwhelming that they'd be beyond belief. It would have to be someone that makes Krasinski look bookish and small though since in the comics, quite often, Ben has always dwarfed Reed Richards in some sense. Maybe Dave Bautista could fill in as Ben Grimm, he's an intelligent guy and a hulking individual that might make Krasinski look kind of small by comparison. Emily Blunt as Sue Richards would work, but it is interesting to think of whether the team would be shown in another origin story or if they would be established as Spider-Man finally was when Tom Holland came to the MCU. Ben Sherlock of ScreenRant has more to say on this matter. In a way an origin story is great, but it also gets ripped to shreds by fans more often than not since one group of people think one thing and the next group think another. There's so much subjectivity in a comic book movie that it's enough to make your head spin trying to pin down a definitive origin without inciting a massive argument over who did it best, not the over the fact of which one came first. Seriously, at this point some fans happen to think that the origin stories are a load of garbage, but one thing that needs to be remembered is that the original comics were created decades ago when the world was a bit different and perceptions weren't what they are now.
The Fantastic Four as a team are insanely tough but they've been eclipsed time and time again by other groups such as the Avengers, the X-Men, and many other teams that a few of the FF members have been a part of over the years. Moonlighting in Marvel is pretty common among many heroes since it's happened so often that some heroes' resumes are nearly filled with all the groups they've been a part of. Other heroes have even joined the FF from time to time, changing up the roster in a way that's been kind of interesting since it gives the group a new look now and again. She-Hulk was actually a member of the FF at one time if anyone remembers. But thus far, the choices that people have decided to get behind when it comes to who should play each role has been kind of impressive since Krasinski, Blunt, and Efron are perfect for their roles. While those that have come before and planted the idea for the FF making their way to the big screen have done their part, some would claim that a real FF movie hasn't been made yet. The 2015 movie was a tragic train wreck unfortunately since it took the history the group and made it into something that was it's own story that just barely clung to the origin of the FF. The idea that Reed abandoned them all to try and find a way to fix them was kind of hard to stomach, but really the appearance of the Thing was better in the 2015 version than it was initially when Michael Chiklis was assigned the role.
So yes, Efron as the Human Torch would be perfect, if only because he can play the blonde pretty boy that has a serious attitude problem, and because he knows how to get insanely ripped.