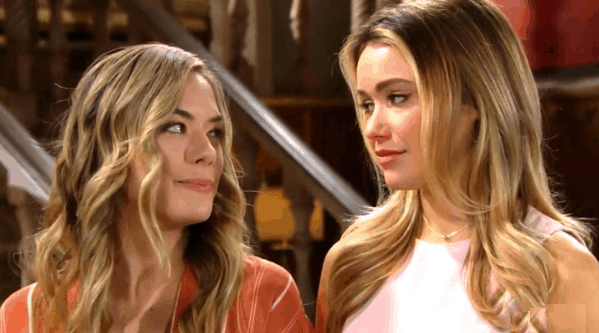 The Bold and the Beautiful fans are no strangers to betrayal. This is not a soap much like the others. There aren't so many fake deaths and killings and kidnappings and things like that in LA. This is a show centered around a few families who want to be the most powerful, who are rich and beautiful and have the time of their lives, and they mostly just sleep with one another despite things like wedding bands and commitment and all that fun stuff. But, they know betrayal because they do it to one another on a daily basis. And we don't know which ones are the worst, the best, and the most mediocre. But, we do know that there are a few betrayals that we know are sometimes so hard to forgive, and we cannot handle that in any capacity. Here are the things we find difficult to forgive.
The Baby Switch
We cannot with this one. We just cannot. Right now, we know of at least five people who know that Hope's dead baby is actually alive, well, and thriving with her new mother, Steffy. Steffy doesn't know, of course. She adopted this baby and thought that she was getting the baby of a young woman who couldn't handle being a mother. That woman is Flo, who just found out she is the sister of all the Logan sisters because they share the same father. She is also the love of Wyatt's young life, and she is good friends with Quinn, who is also her mother's very best friend. And then there are people who work closely with the Forrester family – Zoe and Xander and even Reese – who all know the truth about this baby, and yet they are saying nothing. The level of betrayal here is so amazing to us, and we cannot imagine that there is even a remote chance that anyone can ever forgive Flo for her role in all of this.
The Death Push
We all know that Justin is a man with a tough job. He didn't go to law school thinking he would spend his life not in the courtroom but in the offices of Bill Spencer. He doesn't hate how much he gets paid to do very little work, but his work is questionable at best. There was that time that Bill and Ridge were fighting over a woman – shocking, we know – and they decided that things were going too far, so Bill paid Justin to push Ridge out of a helicopter and kill him. And he did – but he survived. We are literally amazed these two can even be in the same room as one another, and it's just amazing to us that they went from that to being the grandparents of the same kids who spend holidays together. They still have no happy feelings for the other, but still. It's amazing to us.
Sister Sister
Okay, we have more than just sister, sister here. But what happens all those times when Brooke walks in and takes a man from her sister? She took Bill from Katie knowing that it was the wrong thing to do, and now her sister is considering getting back with him, and we all know that Brooke will take him back again. And there was that time she took her own daughter's husband and had a baby with him. And what about the time she also slept with her other daughter's boyfriend when they were barely legal adults, all because she thought that he was her husband at the time? He was, like her daughter, not someone with much sexual experience, so it should have been very obvious to her in the moment that this was not the man she married or the man whom she'd slept with a million times. But, she didn't know, and she didn't really do much else other than say "Oh, my bad. I thought he was my husband," and then try to get it to work out for herself, her daughter, and even her own husband. And that is creepy and weird, and we find it difficult to like Brooke when she's so cavalier about the feelings of her own family and friends.