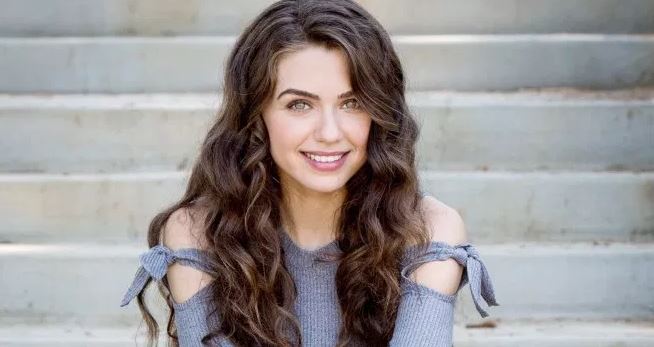 Days of Our Lives fans know actresses come and go over the years, and that's a beautiful thing. But, that doesn't mean that we don't have our favorites. We have our all-time favorites. We have our sometimes favorites. And, we have our right now, in the moment, they are currently on our screens favorites. This is 2019, and there are some women on the show who have been here for a while, and there are some who have not. For this moment, however, we are so into some of the best actresses on the screen. Some are better than others. Some are not. Some are amazing. Some are so good in the moment they are our current favorites. We don't have a clue if they will even be here on our screens by the time 2020 rolls around, but they are our favorites in 2019.
Victoria Konefal
She's our favorite young actress on television right now. She's made it her job to become Ciara Brady, and she has rocked every second of it. She's become the character, and she's got us all eating right out of her hand. She's amazing, and we love her. She's taken this character and turned her into someone we relate to even though she's dating a murderer and a man with some serious mental issues. She's a young woman who will not listen to her mother. She's a young woman who will not take good care of her niece, and she's a young woman who struggles regularly. Somehow, even though her life is not really anything like ours, she's a young woman we relate to. We might not be dating murderers or living our lives like that, but we get her. We feel her, and we like her. She's really, really good at what she's doing in this role, and she's our favorite in the moment.
Camila Banus
Who doesn't love Gabi right now? She's gone through a lot, and she was not our favorite in 2018. We actually did not like her character at all, and she was a mess. But, while she's clearly still a mess, we like her a lot. We like what we see, how we see it, and what we are getting from this. We enjoy her and want to see more of her. We like what she's bringing to the table, and we appreciate the many things she's doing. She's going through something right now that many people feel is relatable. She's fallen for a man whom she hates. She does not like him. She finds him appalling and awful, and he her. Yet, they've found a way to fall in love, get married, and have a family in the midst of their conflicted feelings. They have some serious chemistry, and she's playing this confusion like no one's business. She's rocking every second of it, and we appreciate it.
Arianne Zucker
Right now, we cannot get enough of her. At all. She's not just the woman who returned from the dead to be Nicole again after she was killed in a fire. She's a woman who has always been an amazing actress. She's been Nicole for so many years, and she's always made us feel good about her skills and abilities on the show, but this is a year when she is shining like it's her actual life calling. If she doesn't bring home an Emmy for this role, nothing is going to make us happy again. She is back pretending to be Kristin pretending to be Nicole. If that is not something that only dreams are made of, we don't know what is. She is Nicole, yet she's having to pretend to be someone else who is pretending to be her own character. It's television magic, and she's making us believe she's not even who she is and always has been. We love this, and we have to be frank when we say we cannot get enough of this young woman and her acting abilities. Again, we are convinced that there is already an Emmy somewhere with her name on it because those who make them know well in advance she's a shoe-in for this. She's making magic.