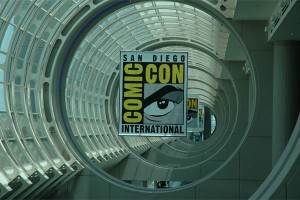 When I went to Comic-Con last year, I spent all of Thursday in the cavernous Hall H watching movie panels. They were actually great (I saw stars like Tina Fey, Bruce Willis and Helen Mirren), although I'm not crazy about the room. This year, Hall H has Twilight and something from 20th Century Fox that is currently unspecified.
Therefore, the place to be is Ballroom 20, where all of the TV stuff is happening, including the Game of Thrones panel, the return of Sarah Michelle Gellar to San Diego, and Showtime and USA shows. NBC's Awake will also be making an appearance in Room 6A, as will a few other shows.
You can find Comic Con's official Thursday schedule here. Try using the My Sched tool to customize your schedule and print it out or put it on your smartphone. It's an invaluable tool, trust me.
In the meantime, here are a few highlights of Thursday's TV schedule:
"Burn Notice: The Fall of Sam Axe", 10:00 – 11:00 a.m., Ballroom 20
Who: Star Bruce Campbell and Burn Notice creator Matt Nix.
Covert Affairs, 11:15 – 12:15 a.m., Ballroom 20
Who: Stars Piper Parabo, Christopher Gorham, Sendhil Ramamurthy, Kari Matchett, Anne Dudek and Peter Gallagher will be joined by producers Doug Liman, Chris Ord, Matt Corman, and Dave Bartis and moderator Oded Fehr.
Psych, 12:30 – 1:30 p.m, Ballroom 20
Who: Stars James Roday, Dule Hill, Maggie Lawson, Tim Omundson, Kristen Nelson and Corbin Bernsen will be joined by producers Steve Franks, Kelly Kulchak and Chris Henze in a panel moderated by co-star Kurt Fuller.
Ringer, 1:45 – 2:45 p.m., Ballroom 20
Who: Stars Sarah Michelle Gellar, Ioan Gruffudd, Nestor Carbonell and Kristoffer Polaha will be joined by producers Pam Veasey, Nicole Snyder and Eric Charmelo.
Napoleon Dynamite, 2:00 – 3:00 p.m., Room 7AB
Who: Stars Jon Heder, Tina Majorino, Efren Ramirez, Jon Gries, Sandy Martin and Diedrich Bader and producer Mike Scully.
Game of Thrones, 3:00 – 4:00 p.m., Ballroom 20
Who: Stars Emilia Clarke, Nikolaj Coster-Waldau, Peter Dinklage, Kit Harington and Jason Momoa (and possibly more) are on a panel moderated by author George R. R. Martin.
Awake, 3:45 – 4:45 p.m., Room 6A
Who: Star Jason Isaacs and producers Howard Gordon and Kyle Killen.
Archer, 4:00 – 5:00 p.m., Indigo Ballroom, Hilton San Diego Bayfront
Who: Series creator Adam Reed will be joined by stars H. John Benjamin, Aisha Tyler, Chris Parnell, Judy Greer, Amber Nash and George Coe.
"TV Guide Presents: Fan Favorites", 4:15 – 5:15 p.m., Ballroom 20
Who: Nestor Carbonell, Johnny Galecki, Jorge Garcia, Leslie Hope, Zachary Levi, Joe Manganiello, Julie Plec, Matt Smith, Kevin Williamson, Deborah Ann Woll and more.
Beavis & Butthead, 5:00 – 6:00 p.m., Room 6A
Who: Mike Judge
"Showtime: Tired of Ordinary Television?", 5:30 – 7:30 p.m., Ballroom 20
Who: Michael C. Hall and other Dexter stars and producers will be in attendance, while Shameless will be represented by William H. Macy, Emmy Rossum and John Well? V and "Firefly star Morena Baccarin will appear to introduce clips from Homeland.
Wilfred, 6:15 – 7:30 p.m., Room
Who: Elijah Wood, Fiona Gubelmann, Dorian Brown, David Zuckerman and Randall Einhorn.
clarissa @ tvovermind.com
twitter.com/clarissa373
twitter.com/tvovermind