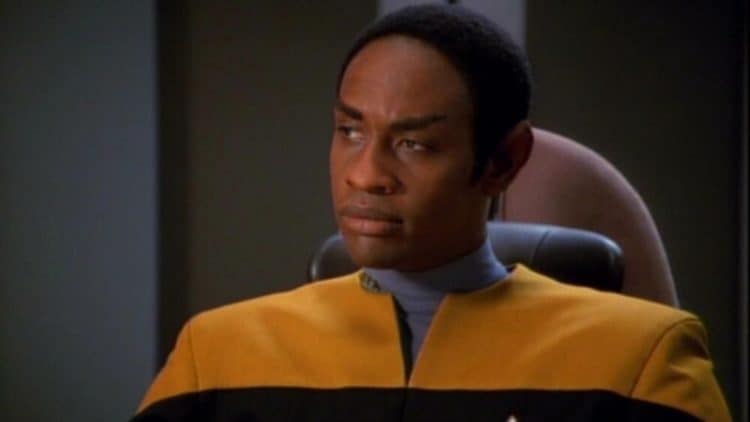 Star Trek fans everyone will recognize Tim Russ instantly. He has been part of the franchise since the 90s and his character, Lt. Commander Tuvok , has become one of the most well-known. He has also done lots of being the scenes work with Star Trek. But while Star Trek may be Tim's claim to fame, it's certainly not the only thing he's done. In fact, many of younger fans may not even be familiar with his work on Star Trek and will instead recognize him for playing the role of Principal Ted Franklin in the Nickelodeon series, iCarly. Tim's ability to appeal of viewers from multiple generations is part of what makes him so special. Keep reading for 10 things you didn't know about Tim Russ.
1. He Originally Auditioned For The Role Of Geordi La Forge In Star Trek: The Next Generation
Sometimes things don't work out the way you planned, but they still turn out the way they should have. That was exactly the case when it came to Tim's Star Trek audition. He was originally hoping to be cast for the role of Geordi La Forge which ultimately went to LeVar Burton.
2. He Spent Some Of His Childhood In Turkey
Tim was born in Washington D.C. but his father was a member of the United States Air Force. As a result, he moved around quite a few times when he was younger. He spent several years living in Turkey. Some of the other places he lived in include Taiwan and the Philippines.
3. He's Also A Voice Actor
Being in front of the camera is what has gotten Tim the most recognition throughout his career, but he has also done lots of work as a voice actor. Most notably, he voiced Solomon in the TV series, Sym-Bionic Titan. He has also voiced several video game characters including Thenios in World of Warcraft: Shadowlands.
4. He's An Emmy Award Winner
Tim has accomplished lots of things over the years, but no accomplishment can quite compare to the feeling of winning a major award. In 2014, he won an Emmy Award which, somewhat surprisingly, had nothing to do with Star Trek. Instead, it was for a PSA he did for the FBI's Los Angeles Field Office.
5. He's A Musician
On top of acting, Tim has always loved music and has been a performing musician for many years. He actually started playing the guitar before he even started acting. Tim regularly performs music at venues in the Los Angeles area and his songs can be found on most streaming platforms.
6. He Likes To Give Back To The Community
Helping those around him has been something Tim has been focused on throughout his career. According to his website, he is currently involved with two Los Angeles based charity organizations: A Place Called Home and The Midnight Mission. Any time someone purchased an autographed print from his website, a purchase of the proceeds are given to either charity.
7. He Participated In Black Lives Matter Protests
Tim has never been shy about standing up for what believes in. He made it a point to participate in Black Lives Matter protests in Los Angeles. He has also been very vocal on social media about his political stance and it is very clear that he doesn't support president Donald Trump.
8. He Is An Astronomer
Star Trek has had a huge impact on Tim's career, but it's also played an important role in his personal life. Due to the franchise, he developed a real life interest in the world of outer space. While in an interview with CNET he said, "I'm an amateur astronomer, and I practice that hobby a lot. And I'm fascinated by hard science. Hard science is something for me that's absolutely limitless in terms of how much can be learned and how much can be achieved. It's a pure field of study."
9. He Was In An Episode Of Hannah Montana 
Tim is the kind of actor who can truly do a little bit of everything. With that being said, iCarly isn't the only teen series he has been a part of. Tim also made an appearance in an episode of Hannah Montana in 2007 where he played a character named Dr. Meyer.
10. His Daughter Is An Actress
Tim likes to keep his private life under wraps for the most part, but we do know that he is the proud father of a daughter named Madison Russ. Madison is following in her father's footsteps and is currently pursuing an acting career. Her acting credits include an appearance in Star Trek: Renegades.