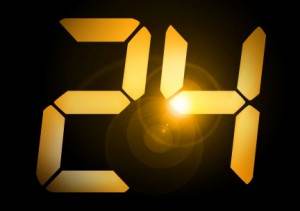 The rumors have been rampant, but the word has officially come down. The cast and crew of 24 was informed this afternoon that the series will not be renewed after this current season. Series star Mary Lynn Rajskub, who plays Chloe O'Brian, tweeted the news at around 7:00pm EDT today:
Just found out we got the word officially. This is 24's last season
Of course, the cancellation does not necessarily mean that this will be the last we see of Jack Bauer, Chloe, and CTU. There is still a slight possibility NBC could pick up the show, but more likely, the series creators will now have time to write the long-rumored 24 feature film. Fox's decision is not a surprise, as this season, 24's eighth, has been roundly criticized as not up to par with its prior offerings. Still, the demise of one of Fox's tentpole series is going to leave a large hole in the network's schedule.
What do you think about 24's demise? Do you think it is time for the series to end? Will you miss watching the exploits of Jack Bauer? Will you have withdrawal from Chloe's dry, sardonic wit? Any interest in the 24 movie? PLease leave your comments below, and be sure to check back with TVOverMind for any more news as it develops.
Let the bad clock puns begin.