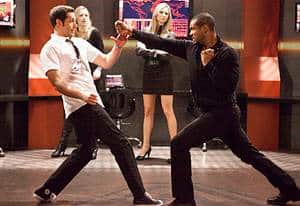 Let's say you are a fan of NBC's Chuck, and at the beginning of this season, you were introduced to a new character played by Olivia Munn, named Greta. Then, to much confusion (for the characters, if not for you as a loyal TVOvermind reader), the Greta we knew, was replaced by the Old Spice Guy, Isaiah Mustafa. Though still named Greta, Mustafa was then replaced by Stacy Keibler, and then Summer Glau. Then, Greta just disappeared completely. It may make you (and by you, I mean me) wonder, "What the Hell was up with Greta?!?" Well, tonight, we are about to find out.
TV Guide is reporting that tonight's episode of Chuck, "Chuck vs. the A-Team," brings back Keibler and Mustafa as the two former Gretas who are now part of Casey's super-secret NCS team, supervised by Jane Bentley (played by Robin Givens). The TV Guide article reveals what is so special about the two Gretas, now named Capt. Victoria and Capt. Rick, respectively, but I don't want to spoil you. Let's say this new partnership might give Chuck and Sarah a run for their money as America's top spy team, and they are not happy about it.
Further, Chuck and Sarah will learn that Casey has been moonlighting for the NCS. Will he be taking Morgan along with him? What will this mean for Team Bartowski? Just as Chuck is solidifying his relationship with Sarah, their relationship with Casey is dissolving. I can't imagine Chuck is going to take this all too well.
So, what do you think about this? Are you happy to finally get some explanation for the existence of the Gretas? Would you have rather had Olivia Munn or Summer Glau (they of two failing NBC shows) back? How long do you think Casey's work for NCS last? Will Morgan choose his best friend, or his mentor and possible future father-in-law? Please leave your comments and theories below. Watch Chuck tonight at 8:00pm EDT/PDT on NBC, and check back here tomorrow for my latest recap.
Follow: twitter.com/tvovermind
Follow: twitter.com/MikeNJD
Email: [email protected]