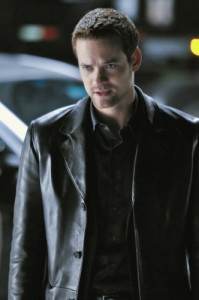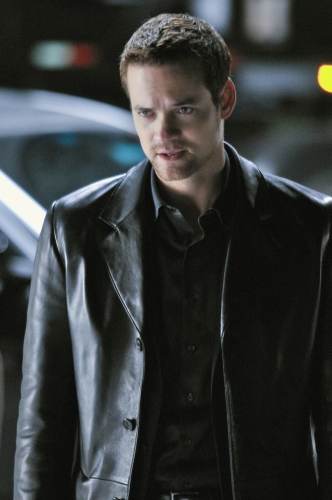 All series have a shelf life. So do their characters and plotlines. While they may start hot, storylines can just as quickly paint a good show into a bad corner, or completely change it around. (And I don't just mean "When will Character A and Character B get together?" That's the least of my worries.) Here are five elements from some of my favorite series that are just aching for resolution.
1. How much time does Nikita's Michael (Shane West) have to pick a side?
Forget Nikita or Alex. The character I'm most concerned with in CW's spy saga is Division's permanently agitated right-hand man, Michael. He's the only person whose loyalties aren't clear. While Michael's been a good soldier, we saw in "Rough Trade" that he's had his doubts about his work for a few years, and his recent interactions with Nikita have only exacerbated his confusion. He's not sure if he's on the right side anymore, and it shows; in "Resistance" Percy feels the need to test Michael's loyalty.
It's Michael's inner conflict that makes him Nikita's most fascinating character. Every week, he clearly struggles trying to rationalize what he believes to be true with what chasing Nikita is showing him. (And it's not because of her, either.) This vulnerability is a unique aspect to his character that no other incarnation has had, and it's given Shane West plenty of material, which he's capitalized on in spades. His Michael is neither idiot nor fool, as we've seen in his confrontations with boss Percy (Xander Berkeley), so each week as tension mounts, I can only wonder when he'll finally decide he's had enough and join Nikita and Alex in taking down Division.
While Michael's defection from the bad-guy ranks is pretty much inevitable, it will also mean Nikita will be an entirely different series. Shane West will still have plenty of material to mine as Michael starts a whole new arc, but the writers will need to find something to replace the "when will Michael turn sides?" tension that keeps the fans just as interested. It will no doubt come in the form of two other questions: after trying to protect her, will Michael be willing to leave Alex behind (unless he figures out first that she's on Nikita's side)? More importantly, who will Percy replace Michael with in the hunt for Nikita? It had better be someone truly great and more than a little intimidating, because Michael is going to be one tough act to follow.
Prognosis: Variable. It depends on how the writers organized their series; if they had a 13-episode plan, we might see it happen by the end of the initial order. Will they push the game-changing moment to episode 22 now that they have a full-season run? Or will they hold their trump card for into season two and beyond? All of them could be possibilities. One thing's for sure: once they let Michael come to his senses, there's no going back, so they'd better choose wisely.
Speaking of people named Michael…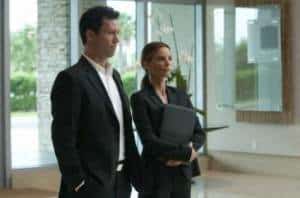 2. When will Michael Westen (Jeffrey Donovan) finally get some closure on Burn Notice?
It's the title of the show, for crying out loud. Michael's obsession with and the mystery surrounding his "burn notice" from the CIA has been the serial subplot of the USA program from the word "go." Every episode we learn a piece of the puzzle, and yet every season there's another layer.
We've seen Michael go through Management (John Mahoney), only to end up entangled with the likes of psychotic Simon (Garret Dillahunt) and the smarmy Vaughn (Robert Wisdom), the latter of whom seems to have had a direct hand in Michael's burning. It begs the question of how many people Michael is going to have to go through in order to get answers, especially since the hunt for them has long put strain on his relationships, particularly with Fiona (Gabrielle Anwar), who'd be happy if he just stopped looking.
Burn Notice made a gutsy move this season by pushing Michael's quest to the forefront and bringing in Jesse Porter (Coby Bell), a newly burned spy. Looking at Jesse, Michael could see who he'd been and how the choice he's made had changed him. In helping Jesse, it was almost as if Michael was helping himself. With Jesse's addition, Team Burn Notice was at the top of its game (at least until that pesky Vaughn stormed in), so how long can these career spies and soldiers be kept in the dark about the show's greatest mystery? Especially with that storyline coming front and center in this season?
Prognosis: Probably not until series' end. While I think Burn Notice could survive even after the major reveal (think a kind of A-Team or The Equalizer scenario), it'd be kind of strange considering that the show is called Burn Notice. Not to mention, who's to say Matt Nix and Company even know the answer yet? When I interviewed Nix at Comic-Con 2009 and asked that question, he said only that he had an idea. By the time BN runs its course (and the show has two more seasons to go), that idea could be totally different. I wouldn't hold your breath, but as long as the show is still good, it shouldn't be too much of a downer.
Which brings me to a show Burn Notice helped inspire…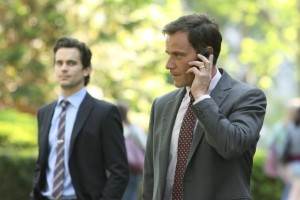 3. When will White Collar's Neal Caffrey (Matt Bomer) and Peter Burke (Tim DeKay) get to the bottom of the conspiracy surrounding Neal and Kate (Alexandra Daddario)?
Through White Collar's first season, the ongoing mystery involved Neal's search for lost love Kate, and who might be pulling the strings behind her. Now we're in the second season, Kate is no more, and we knew all along that it wasn't Garrett Fowler (Noah Emmerich) in charge. The boys have another lead (new villain Paul Blackthorne), but how big is this conspiracy and where does it end?
Some people have decried that they're getting tired of the serial element of the show already, but the ones I've spoken to are also ones who weren't paying attention to it all the way through. It was always clear that Fowler was not the show's "big bad." Likewise, Jeff Eastin has said that he knew the first season ended with Kate's demise. Obviously, Eastin has a plan. Whether or not that extends all the way to the end of the conspiracy is another thing entirely, but he knows where he wants to go. He's been getting there well: White Collar has used the ongoing threads to turn the audience against Peter and back again, and also to turn Neal and Peter against each other. Right now, they're at their biggest impasse yet, and it makes for great drama.
Where is it headed? That could be anywhere. The show scored when it brought on the underrated Blackthorne (The Dresden Files, 24, Monk, Lipstick Jungle) as the new bad guy of the moment, and if the writers know what they have, they'll keep his character around for awhile. I'm all for Neal letting go of Kate – whom I admittedly never embraced in the first place – and focusing more on the conspiracy itself, as long as it doesn't mean we see him jumping into bed with someone new right away, whether it's Alex (Gloria Votsis), Sara (Hilarie Burton) or someone else. While Matt Bomer is probably as close to perfect as a man can get, Neal is a strong character who doesn't need a woman on his arm to be complete. Especially not the season after the alleged "love of his life" dies.
Prognosis: Much like Burn Notice, I think that the show can survive without the subplot, and it's a little less central to this series than it is to Burn Notice. I'd like to see this one wrapped up in the next season or so, and let the focus settle on Neal and Peter closing cases. If they're worried about White Collar becoming just another procedural without it, I'd argue it's the chemistry between Bomer and DeKay that will always set it above the rest.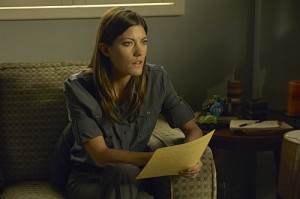 4. Is Dexter's Debra Morgan (Jennifer Carpenter) ever going to discover that her brother is a serial killer?
Deb's made it her personal mission to dig into her father's (James Remar) past. She's discovered that Harry was sleeping with at least one confidential informant – Laura Moser, Dexter's biological mother. Not to mention that she herself was sleeping with Brian Moser, Dexter's brother (and the Ice Truck Killer, besides). So when is she going to connect the dots and realize that Dexter (Michael C. Hall) is offing people?
We can only hope that her judgment has sharpened since Season 1. It'd be fairly ridiculous to have Deb continue as a successful homicide detective, and yet not eventually suss out that the person she's closest to is a murderer. No matter how good Dexter might be at covering his tracks, we also don't want Deb to look equally stupid. The show is in its fifth season now, and with Deb's own partner turned bedmate Joey Quinn (Desmond Harrington) being the latest to think something's wrong with Dexter, it's only natural that Deb might start having suspicions of her own.
In fact, it might be a great character arc for Carpenter, who's long been snubbed for critical acclaim. How terrifying would it be for Deb to think that the person she loves most might be a proverbial monster? That she might have to someday arrest him or even take him out herself? What would she do with that information in her hands? How would she deal with it? It would be heartwrenching.
However, once Deb learns Dexter's secret, how long can the show really continue? Her relationship with her brother is central to the series, and such a revelation would drastically change the way she looks at him. I'm not sure if Deb would cover for Dexter or not, and even if she did, how long could she go on doing so? One more person knowing is one step closer to everyone knowing. Once everyone knows, the show is over. Not only is Dexter's double life the core of the series, but they're not all going to be as sympathetic toward him as Deb might be.
Prognosis: Series' end for sure. Deb exposing Dexter would be a bombshell that would blow holes in the show's central relationship, making it best saved for the end of the series, where the writers could explore it to maximum potential and not have to worry about what happens next. Pitting Deb versus Dexter would be a chilling way to end the series on a high note.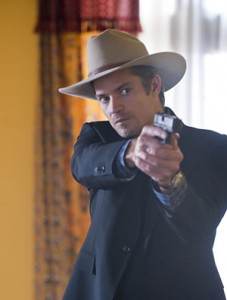 5. Just how many families does Raylan Givens (Timothy Olyphant) have a bad past with on Justified?
Raylan's relationship, past and present, with childhood friend Boyd Crowder (Walton Goggins) was an unexpected surprise in the first season of FX's Emmy-worthy neo-Western. Intended to be dead by now, Boyd instead became Raylan's perfect nemesis, almost a mirror for the lawman to look into and judge who he might have become. The two being forced to work together in the first-season finale was brilliant.
Now the show is bringing aboard Lost's Jeremy Davies to play Dickie Bennett, a character that doesn't sound too different from Boyd. A character from Raylan's past? Check. From a family that's been mixed up with his family? Check. That has something to settle with Raylan? Check. The only difference, at least on paper, is that at least Raylan and Boyd were friends at some point.
It's true that Raylan left behind a lot of baggage when he blew out of Harlan. Other than Boyd, he has his criminal dad Arlo (Raymond J. Barry), not-so-ex-wife Winona (Natalie Zea) and current love interest Ava (Joelle Carter) to deal with. That seems like enough, doesn't it? Surely not everyone has a past with Raylan Givens? He might not be Mr. Congeniality, but at the same time it would be overkill if we just kept finding more people who have connections to our favorite Marshal. It's not as if Raylan has any shortage of current enemies.
While I take a "wait and see" attitude with the new character, I can only hope that Dickie and Raylan's relationship doesn't ape the established one between Raylan and Boyd. Nor that it cuts into the time devoted to those two characters. Their constantly complicated dealings came to be at the core of Justified as it told a story about fathers and sons, and friends turned enemies. That was sheer brilliance, and I don't think it could or should be duplicated. Instead, I'm all for stealing the Actor and Supporting Actor Emmys, and giving them to Olyphant and Goggins for a job well done. (No offense to the winners, but I'll maintain forever that those two were robbed.)
Prognosis: Good. I can't imagine the writers of such an amazing show going back to the same well too many times. There are enough skeletons in Raylan's closet already for them to play with, so I wouldn't expect them to rely on making more of the same. We'll have to wait until February to see how the new character shapes up. Maybe Boyd can give Dickie some spiritual guidance and teach him to let go of his anger.
What do you think, fans? How would you like to see these five questions answered? Are there any other serial elements that have you waiting on pins and needles for their conclusions? Chat about it below.