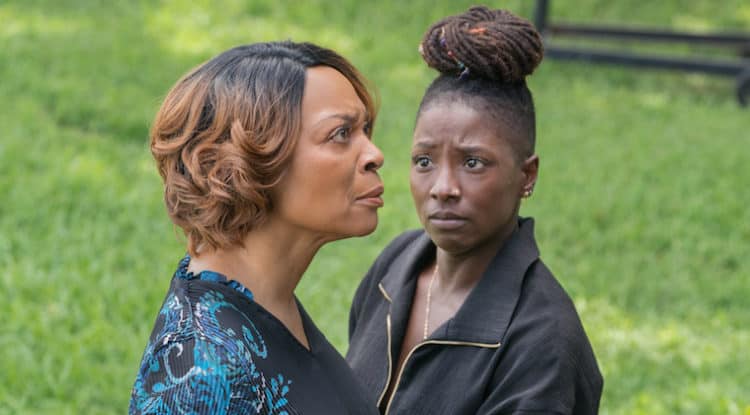 There are some fictional TV characters who earn very real places in viewers' hearts, and Aunt Vi is one of them. As the maternal figure of the Bordelon family, Aunt Vi is dynamic, complex, and relatable and Tina Lifford has been the perfect person to bring her to life. Tina's ability to authentically display a wide range of emotions has allowed her to connect with the character — and the audience — in a unique way. On top of that Aunt Vi's love story with Hollywood has been romantic enough to melt even the coldest of hearts. Now in its 5th season, fans are excited to see what this year has in store for Aunt Vi and the rest of the family. Keep reading for 10 things you didn't know about Tina Lifford.
1. She's An Illinois Native
Tina was born and raised in Evanston, IL and she comes from a large but close knit family. Tina grew up on a predominately white street and her family was the first Black family in the area. Although she no longer lives in Illinois, her midwestern roots will always be close to her heart.
2. She Has More Than 100 On Screen Credits
Tina has been acting professionally for well over 30 years and she has gotten a lot of opportunities during that time. From the big screen to the small screen, she has shown that she can do it all. To date, she has 106 on screen credits and that list just keeps growing every year.
3. She's An Author
Acting is what has made Tina famous, but it's not the only thing she wants to be remembered for. In 2012, she released her first book, The Little Book of BIG LIES: And TRUTHS That Set You Free! She followed up with another book in 2019 titled The Little Book of Big Lies: A Journey Into Inner Fitness.
4. She's Passionate About Health And Wellness
As you may have been able to guess by the title of her second book, Tina is very committed to taking care of her body and mind and encouraging others to do the same. She is the founder of The Inner Fitness Project which "is a wellbeing initiative that teaches effective, reliable "inner" practices for navigating your past, present, and future with resilience, power, and vision so you can."
5. She's Struggled With Self Doubt
Tina carries herself with a high level of confidence, but how she feels on the inside hasn't always matched that. For years she doubted herself and questioned the quality of her work. Fortunately, she was able to overcome those feelings and now she wants to help other people empower themselves as well.
6. She Originally Planned On Being A Court Reporter
Acting is Tina's calling, but she didn't always see it that way. Instead, she focused her education on studying stenography and her plan was to become a court reporter. Eventually, however, she realized that she was meant to do something else. Tina told NBC News, "That career would have actually been death to my spirit…so there's a part of me that knew my value very early and knew that it was important to me to follow the yearnings of my soul."
7. Her Parents Have Always Supported Her Dreams
Many creative people often feel rejected from their families because of their non traditional career choice. Tina, on the other hand, has always had the support of her parents. In fact, when she was on the fence about pursuing a career in acting, it was her father who encouraged her to take the leap.
8. She Loves To Spread Positivity
Despite the ups and downs Tina has faced in her career and her personal life, she has always done her best to be a glass half full kind of person. She always looks for the positives in every situation and she likes to spread those vibes to others. She regularly posts positive quotes and messages on her Instagram account.
9. She's A Fashionista
Tina loves fashion and she has a great sense of style. She sees her clothing as an extension of her personality and she loves getting the chance to express herself. No matter the occasion or event, you can bet that Tina is going to show up and show out. She isn't afraid to take risks with her outfits and she knows exactly how to put pieces together.
10. She Suffered From Stage Fright When She Was Younger
When Tina was younger, she had such a bad case of stage fright that she had to be carried off the stage of a play in 5th grade. Needless to say, Tina has come a very long way since those days and that experience sparked a desire in her to help other people overcome their own challenges.