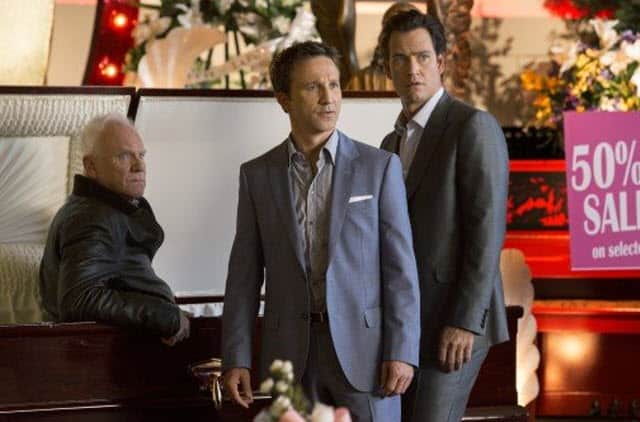 TNT has decided to throw Franklin & Bash into the slammer, and the series won't be getting out.
The cable network announced today that it is cancelling the legal drama, which stars Breckin Meyer and Mark-Paul Gosselaar  as "unconventional lawyers and lifelong friends" Jared Franklin and Peter Bash (in case you never knew, Meyer was Franklin and Gosselar was Bash), after four seasons. Franklin & Bash premiered on TNT back in 2011 and just recently wrapped up its 10-episode fourth season last month (you can check out TVOvermind writer Nick Hogan's review of what will now be the show's series finale right here).
It was considered unlikely that Franklin & Bash would be renewed for Season 5 for many reasons. The show was averaging only 1.2 million total viewers and a 0.3 18-49 demo rating throughout Season 4, a pretty big drop  from the 2.1 million viewers and 0.6 rating the show had back in its third season. Additionally, Franklin & Bash's co-creator and showrunner Kevin Falls recently moved his television deal from Sony to Twentieth Century Fox Television this past summer, meaning that any fifth season of the series would have been without Falls' day-to-day leadership.
Ultimately, the final nail in the coffin for Franklin & Bash was TNT's recent push for darker and edgier programming, a strategy that began when Michael Wright was president of TNT and its sibling network TBS . That plan has now continued with Kevin Reilly (formally the head of Fox's programming), who was just named new the networks' new president last week.
Photo via TNT