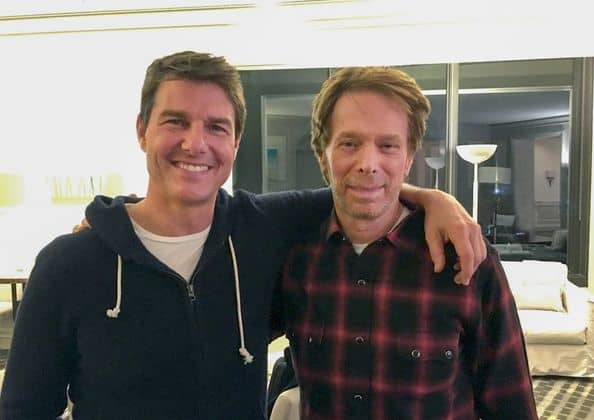 Will they or won't they? That's the question we keep asking about Top Gun 2. Is Maverick coming back to rule the skies or what? We think so….right? Top Gun 2 has been teased literally since the release of Top Gun in 1987. But in recent years that tease seems to be getting more and more real. And things just got more real….again. How so you might ask? Is thing this ACTUALLY happening you might ask?
Producer Jerry Bruckheimer (who produced the original) shared this photo (above and below) of him and Maverick himself, Tom Cruise, "discussing" Top Gun 2. What in the world does discussing mean? It seems at this point we're just going to have to keep following Twitter accounts and not much else.
From what we hear Top Gun 2 would focus on Maverick being an instructor and the movie focusing it's plot on drones and perhaps ISIS. We can't confirm that but again, that's what the rumor mill is telling us.
In the meantime here's the tweet and a photo of two very very wealthy individuals.
Just got back from a weekend in New Orleans to see my old friend @TomCruise and discuss a little Top Gun 2. pic.twitter.com/vA2xK7S7JS

— JERRY BRUCKHEIMER (@BRUCKHEIMERJB) January 26, 2016