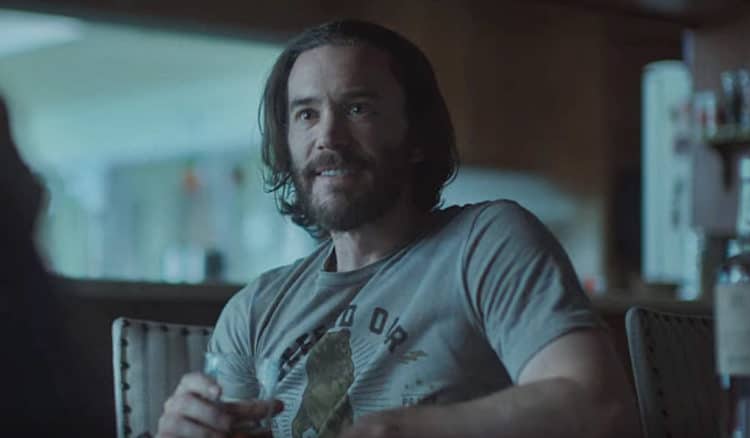 Tom Pelphray's well-groomed good looks have been a part of his image for most of his career. However, things are a little different with his new role on on Ozark. His character, Ben Davis, has a rugged look that fits in perfectly with his role on the show. Although Pelphrey has been in the business for nearly 15 years, Ozark has introduced him to a wide variety of people. Now there are countless viewers who are eager to learn more about the actor who brought Ben to life. Continue reading for 10 things you didn't know about Tom Pelphrey.
1. A Teacher Got Him Into Acting
Tom got his introduction to acting during his freshman year of high school. His original goal was to be on the school's football team, he got hurt within the first few weeks of the season. A teacher encouraged him to audition for the school's performing arts center and he was accepted. He developed a close relationship with his teacher, Steve Kazakoff, and credits him with helping him develop his love for the arts.
2. He Has A Good Relationship With Ozark's Casting Director
Tom Pelphray has had a close working relationship with Ozark's casting director, Alexa Fogel, for more than a decade. The two worked together in the past, so then the role on Ozark opened up, she thought Tom may be a good fit and invited him to read for the part.
3. He Researched Bipolar Disorder To Get Into Character
Most actors will say that getting into character usually requires a lot of research; this is especially true when playing more complex roles. In order to prepare himself for the role of Ben, Tom did a lot of research on bipolar disorder. Tom told Collider that he read a book called An Unquiet Mind by Kay Jamison to help him get a better understanding of the illness.
4.  He's A Jack Nicholson Fan
Tom has been inspired by a lot of different actors over the years. As a kid, Tom says that Jack Nicholson was his favorite actor. Some of other people whose work Tom admires are Joaquin Phoenix and Philip Seymour Hoffman.
5. He Has Two Rescue Dogs
Together, Tom and his girlfriend have two rescue dogs who they adore. Tom's dog is a german shepherd. He says he's not entirely sure what breed his girlfriend's dog is, but he does know that it was rescued off the streets in Egypt.
6. He Likes To Watch Sex And The City
Everybody has a guilty pleasure sure and being stuck in the house is the perfect time to binge watch it. For Tom Pelphray, that show is Sex and The City. Despite being known as the TV version of a chick flick, Tom still enjoys it and describes it as "funny" and "good".
7. He's A New York Giants Fan
Tom is a New Jersey native, and since there isn't a professional football team anywhere in the state, it's only right that he root for the New York Giants. Of course, recognizes that the team isn't the most competitive in the league, but he can't help but be "obsessed" with them.
8. He Went To Rutgers
When it was time to go to college, Tom decided that he didn't want to go too far away from home. He decided to enroll in Rutgers where he attended the Mason Gross School of the Arts. It was actually at Rutgers where Tom got his first shot as a professional acting opportunity. A 'quick' meeting with a casting director named Rob Decina resulted in the opportunity to audition for a role.
9. He Does Stage Work
People are more familiar with Tom's on screen work, but he's also had some theater roles as well. Tom had a role in the Broadway production of "End of the Rainbow." The play ended up being nominated for three Tony Awards. In 2015, he also played Martin in the the play Fool for Love".
10. He's Spending Quarantine In The Catskills
COVID-19 has all of us sheltering in place until further notice. Technology has been the only thing that has kept a lot of people entertained. Unfortunately for Tom Pelphrey, he doesn't have too many options in that regard. He and his girlfriend, that place is Tom's house in the Catskill mountains. Unfortunately, the cell reception up there isn't great and Tom has also said that they don't have a strong Wi-Fi signal.