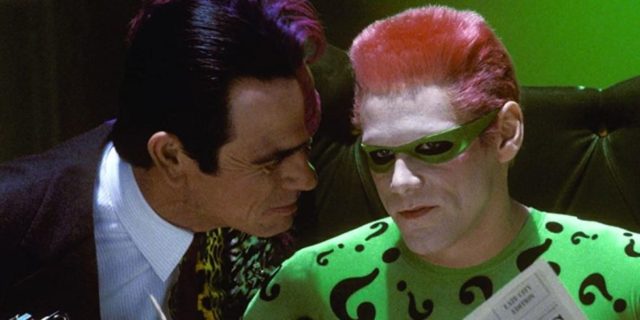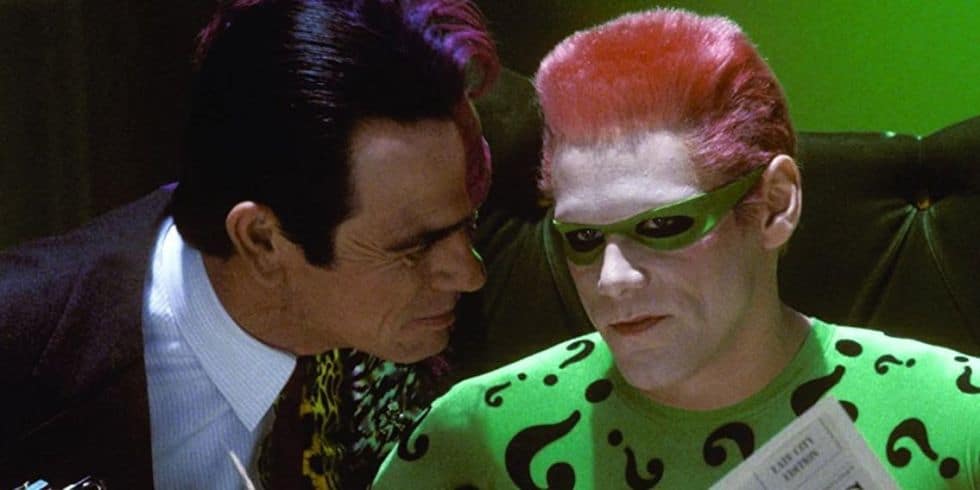 If you are a fan of Batman in the Dark Knight franchise, then you have definitely seen Batman Forever, and you are aware of the fact that movie featured a star-studded cast that included Jim Carrey, Tommy Lee Jones and Val Kilmer as Bruce Wayne/Batman. The chemistry between these actors on the screen was nothing short of amazing; however, there are rumors that there was a great deal of conflict and animosity between Jones and Carrey. In fact, sources aware of the on-set dynamic reveal that Tommy Lee Jones was outright mean to Carrey.
Conflict and animosity on movie sets is nothing new. Anytime you have egos and divas who are used to being the center of attraction be forced to share the spotlight with others, things tend to become a little tense. When you add the fact that personalities and values can be distinctly different, you end up with a highly volatile environment that normally has to be managed by the director and producers on the set.
According to sources, Tommy Lee Jones is not a fan of Jim Carrey and he made that known on more than one occasion during the shooting of the movie. While it has been more than 22 years since the film was shot, the tension on the set is still a hot topic of discussion among those who were privy to how things played out during that time.
For those who have not seen the film, Jim Carrey played the role of Riddler and Carrey played Two-Face. Obviously, Val Kilmer played the role of the Caped-One. During a recent interview with Howard Stern, Carrey was asked about the contention on the set between him and Jones, and he was surprisingly candid about the situation.
Carrey said that at the time that he was preparing to shoot the movie, he was actually looking forward to working with Jones because he viewed as being an exceptional actor, according to the interview, he still holds Tommy Lee Jones in high regard as an actor. Basically, Carrey referred to Jones being "a little crusty" or uptight — referring to Jones' Ivy League education. It is amazing the take that Carrey has in this particular situation because it reveals that he has really given the situation a great deal of consideration over the years.
During the time that "Batman Forever" was shot both, Jones and Carrey had released their own movies at about the same time. Carrey had release Dumb and Dumber and Jones had released Cobb. Dumb and Dumber became a comedic cult-classic and Cobb did not fare too well. Carrey believes that the fact that some who did not have the prestigious academic background that Jones had could do so well in the industry kind of shook him and he did not like.
Jones reportedly told Carrey that he hated him on the set. It all came to a head one in a restaurant before the two were to shoot a big scene together. When Carrey entered the restaurant. The maitre'd informed Carrey that Jones was already in the restaurant eating, so Carrey decided that he would go back to speak and that is when Jones told him that he hated him and he really did not like him. While the two successfully completed the film, which speaks to the level of professionalism that they both embody, the conflict and tension were never fully addressed or resolved.