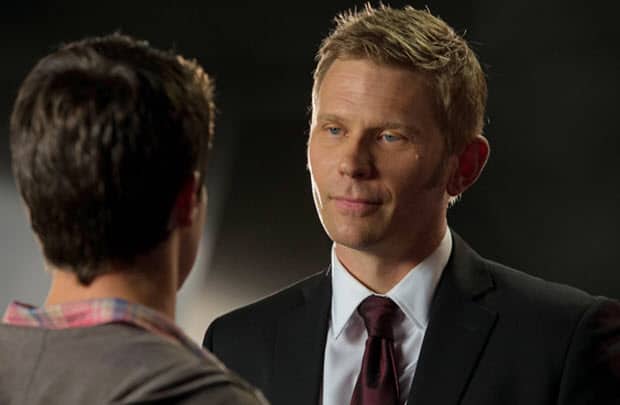 With the amazing start that The Tomorrow People had last week with its pilot, this week's episode was a fantastic follow-up as we learn more about the characters' backstories as well as the danger that Stephen has put himself in.
The strongest aspect of the episode was seeing both John and Stephen's ways of acting as leaders. Mitchell is portraying a very tortured soul, but despite that, is putting the other Tomorrow People before himself as a leader. Stephen, however, who is just learning how to handle his abilities, is coming from a different perspective in being a leader and that's refreshing to see.
Cara's connection with Stephen is compelling, and we learn that she left a little sister behind who I think is going to play a potential big role later this season. It's a very different love interest relationship that Stephen and Cara have from what I have seen previously; Cara is acting more like a mentor right now by, for example, teaching him how to block his mind from being read by using a powerful memory.
Stephen's family is a really nice element to the show, and this week we saw more of his mother and learned that she is strong and trying to keep the family together. I don't what it is about Sara Clarke, but I truly enjoy her character because she feels so real despite the fact that she has and is living with people that have powers.
I think the memory we saw was supposed to convey that she may already know of the existence of the Homo Superior and if that was the case, it will be interesting to see when/if she learns that Stephen is one as well.
As he is learning more about Ultra, his father's absence — through seeing his mother's memories — and the Tomorrow People, Stephen is quickly maturing. The final scene at the end where we see the promises was definitely one of my favorite moments of the episode.
I can't stress enough how strong this cast is as an ensemble; the characters are learning from each other and that gives you the feeling of characters being on an equal level. I think the scenes that Amell and List had together in this episode really captured that theme as they are coming from different places and both bring individual things to the table.
I didn't talk much about the bio-computer TIM last week because there wasn't enough scenes for me to talk about but this there were. I love TIM: I think he is a great technological character — kind of like J.A.R.V.I.S. in the Iron Man franchise — and something that just fits within a show like The Tomorrow People. From what I heard, he was one of the popular aspects of the original series so it makes sense why someone from my generation would enjoy him in this remake.
Jedikiah is a serious baddie that really conveys the feeling of being a dangerous person even though he is mostly calm. I enjoy the fact that he isn't the typical villain that believes everything is alright after having put protagonist through one trial to see whether or not he is lying. With the introduction of Meta Golding's character, we are seeing that Ultra isn't taking Stephen in easily into the organization, That's something that always makes this kind of villain so much powerful to watch.
One of my few issues last week was the limited screen time of Astrid and Russell which was partly remedied in "In Too Deep." Mantock got featured a bit more this week — not by much though — but sadly, Yoo's scenes were shorter this time. I don't get why this is the case, but hopefully, they will give us a pay-off by giving him some more attention in upcoming episodes.
The focus of the episode was Nick Eversman's Kurt Rundle who was the first "Case of the week"-character and I hope this is a formula that the show will follow. I appreciate this kind of formula in certain TV shows, especially those in the sci-fi genre. I like the scenes that Stephen had with this kid because he could see so much of himself in Kurt that he was really someone that could guide him.
"In Too Deep" was a great episode overall that continues to develop the characters and is a strong sci-fi show for The CW.
The Tomorrow People airs every Wednesday night, 9/8c on The CW.