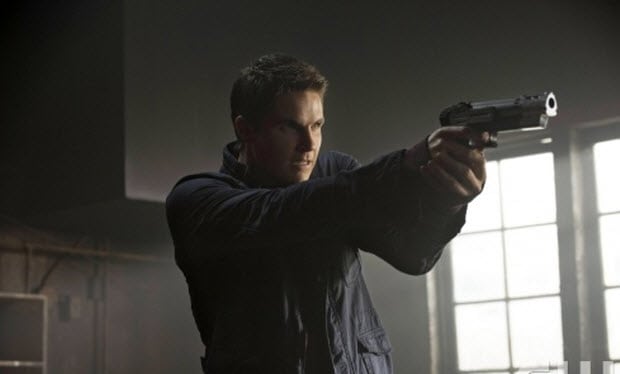 Luke Mitchell's John Young has quickly become a huge fan favorite since The Tomorrow People started, and to finally get an episode that focused on his origin was exciting.
Some people had speculated that John was perhaps the son of Jedikiah and while that was almost the case, I'm glad that he wasn't his biological son.
Besides, that wouldn't have made any sense at all because if John was a homo superior while Jedikiah wasn't, how would John then have powers? I didn't expect to see John's childhood to be that painful, but just because of that, I see John as even stronger character now.
Because we are starting to see all the torture that he had to go through to become this strong leader, I feel his strength to be more believable.
The biggest revelation in this episode was obviously the fact that he can kill and that Jedikiah has been able to find a way to make Homo Superior able to kill.
I feel we need more backstory on that element before it feels convincing enough because so far, it feels a little bit too easy. It's safe to assume though that this explanation was just the beginning for a bigger theme for the show. Another important thing regarding this revelation is how long John will keep this from his fellow Tomorrow People.
Mitchell's powerful scenes with Pellegrino was some of the highlights in "Kill or Be Killed" (which you could make a drinking game of with Jedikiah saying it so many times in this episode) and I feel that their dynamic is just going to get more intense throughout the series.
I never saw Veronica Mars and I wasn't familiar with Jason Dohring as an actor, but he was truly a fantastic antagonist for John in this episode. Dohring's character just felt like an alternative version of John, the man that he could have become if he had stayed with Ultra. I don't know what his role was on Veronica Mars, but he is definitely an actor who knows how to make an antagonist feel truly evil.
Something that we all need to take from this episode is that you don't mess with Stephen's mother, Marla because she kicks butt. Sarah Clarke is becoming one of my favorite actors on this show and I love the mother-son relationship that Amell and she has together because of how real it feels.
I would seriously pay money to have more dinner scenes with Jedikiah and Stephen's family because that was one of my favorite aspects of this episode. We actually got some funny moments out of the main antagonist of the show which doesn't happen always in other TV shows.
It was entertaining to find out that Stephen's father is named Roger, most likely after Roger Price who created The Tomorrow People. It's also what inspired Jedikiah's last name, "Price."
On a serious note, I liked that Marla wanted to get more involved because it makes her look not clueless and it strengthens my theory that she may know about the existence of the Homo Superior.
Guy Bee is one of my favorite directors in TV and just like his work on Arrow he did an amazing job with this episode.  I hope to see him being one of the recurring The Tomorrow People directors.
My favorite sequence in this episode was obviously John's speeding-teleport while dissembling five other bombs in that room. I seriously think that with the Flash spin-off that Berlanti is developing , they just found their way of doing super-speed on that show, if it gets picked up.
James Bamford and his team never disappoints when it comes to the action scenes as they did an amazing job with the John and McCrane fights in the episode.
"Kill or Be Killed" was a powerful episode and gave Mitchell an opportunity to show more of his range as an actor.
He is definitely one of the breakout — no pun intended — stars of this season on television. I think, despite how emotional Cara's backstory was last week that John's was slightly stronger and more compelling.
My only question for The CW is can we just get a full season order for this show already? It definitely deserves it.
The Tomorrow People airs Wednesday nights, 9/8c on The CW.