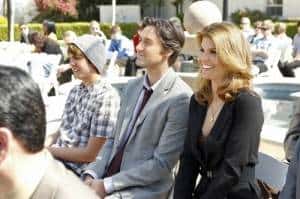 Tonight marks the third season finale of The CW's 90210. The show has already been renewed for a fourth season, but before the kids can head off to college they need to graduate high school, which is the focus of tonight's season finale.
Graduation is upon the West Bev kids and not everything is going to go smoothly. Annie, who is thrilled about heading off to college with her new inheritance, is dismayed when Liam derails their plans and tells her he doesn't want to go to college. Will this break them up for good?
And what about Adrianna? The rest of the 90210 group is finally made aware of the terrible things she's been doing to Silver and they shun her. Can she ever redeem herself or will she find herself very lonely when the new season starts?
Raj and Ivy will also be going through with their wedding in tonight's season finale, with a beautiful ceremony on the beach. But how long will Raj's health hold out?
We'll have to wait until the fall to see how everyone heading off to college will affect the show and the intersecting storylines. Until then, you can view a promo and sneak peek for tonight's season finale of 90210. Also, you can view promo photos for the episode here.

clarissa @ tvovermind.com
twitter.com/clarissa373
twitter.com/tvovermind