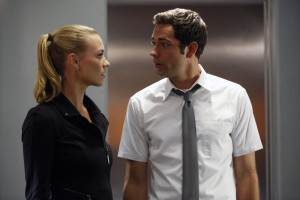 If you read my recap of last week's episode of Chuck (you did read my recap, right?), you saw me mention that Josh Schwartz and Chris Fedak told Alan Sepinwall and Dan Fienberg of HitFix.com that tonight's episode, "Chuck vs. the Push Mix," is maybe the best episode of the series' history. Further, the last ten minutes of the episode are, according to Schwartz, the best ten minutes they have ever shot. In the words of a great (wo)man named Frank, I shiver with antici………………………………………………………………
………………………………………………………………………………………………………………………………………….
………………………………………………………………………………………………………………………………..pation!
I mean, these are big words coming from Chuck's showrunners. It's not often that creators will raise expectations so high for one particular episode, or one ten minute period for that matter, lest those expectations not be met and the audience be majorly disappointed. Network promotion flacks do this all the time, and certainly, reality shows do it every week ("the most dramatic Rose Ceremony EVER!!"), but it is rather uncommon for showrunners and producers to make such bold proclamations.
What do you make of this? Personally, it has just made me all the more psyched for tonight's episode. Remember, NBC's original order for this season was thirteen, and tonight's episode is the thirteenth, meaning in the originally planned arc for this season, this episode was to be the season, if not series, finale. As such, I expect to see the conclusion of a number of stories that have palyed out so far this season. (What comes next is purely my speculation. I haven't seen tonight's episode, nor have any spoilers. Just in case you were worried.)
First, I think it's a safe bet (especially from the preview scenes provided at the end of last week's episode) that Chuck and Volkoff will have their final showdown. I hope Vokloff doesn't end up dead because Timothy Dalton has been pitch perfect this season, and a whole lot of fun. It would be a shame to lose him now.
On the other hand, I wouldn't be surprised, and I am half expecting, for Mary Elizabeth Bartowski to be reunited with her husband in the next life. In fact, I would absolutely love if the episode gave a huge shout-out to one of the best episodes of Lost, "Do No Harm," and juxtaposed the birth of Baby Awesome with the death of Mary Elizabeth Bartowski, most likely at the hands of Volkoff. Throw in a riff on Michael Giacchino's amazing "Life and Death" theme, and it could be a real tear-jerker, plus a knowing nod to the largely overlapping audiences of Chuck and Lost.
In the other stories, I figure Morgan will save Casey in some manner, or do something else that further proves his worth to the Colonel. Jeff and Lester will do something…odd, and Big Mike will maybe propose to Morgan's mother. That leaves Chuck and Sarah. Whatever else goes on around them, I think by the end of the episode, they will be together. If there was anticipation of this being the final episode ever, I can't imagine the creators keeping these two apart in any way. If what I have speculated about above comes to fruition, Chuck will need someone to lean on. If I am completely wrong about the above (and there is certainly a good chance of that happening), and everything is hunky-dory at the end of the episode, well maybe Chuck finally gets to propose to his beloved. Either way, expect some fantastic acting coming from Zachary Levi and Yvonne Strahovski in the closing minutes.
So, how do you feel about Schwartz and Fedak's declarations of awesomeness for tonight's episode? Do they make you excited or worried that expectations can't possibly be met? What do you want, and not want, to see in the episode? What do yo predict will happen? Would you like the episode's ending to be more comedic Chuck or dramatic Chuck? Please leave your questions, comments and theories below. Be sure to check back tomorrow morning for my recap of everything that goes down tonight. For a double dose of Chuck theorizing, also be sure to check out Emma's reviews. Sit back, relax, and enjoy tonight's episode. I'll see you tomorrow!