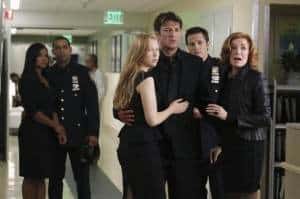 The wait is finally over, Castle fans. It has been an excruciatingly long hiatus and I have to say that I am so happy to be writing these articles again. I honestly can't wait to discuss everything with you guys after the episode airs tonight. As you all know, "Rise" will pick up just a few minutes after the season 3 finale, "Knockout", ended and I will tell you this much: the first ten minutes or so are very intense as Detective Kate Beckett's life hangs on by a thread.
Before tonight's season 4 premiere airs, however, how about we take the time to recapitulate what went down the last time we saw Castle on our screens (which was over four months ago; I know, I feel your pain)?
"Knockout" brought back the storyline of Johanna Beckett's (Kate's mother) murder investigation and it unveiled a surprising twist. It all started when Hal Lockwood, a hit man that was hired to take out people related to the case (including Beckett), escaped prison right through Beckett's fingers. She starts a reckless quest to find out who is behind the whole conspiracy and they end up discovering that their own Captain, Roy Montgomery, had been involved in the conspiracy that led to Johanna Beckett's murder and had covered it up years ago.
He comes clean with Beckett and asks for her forgiveness. However, he ends up getting killed trying to protect her, but kills Hal Lockwood in the process. During his funeral, Beckett gets shot in the chest by a sniper. Castle even tried to save her by tackling her to the ground, but he wasn't fast enough. Just before she passed out, he spilled out those three very important little words and then bam, they left us hanging for the entire summer.
Castle returns with the season 4 premiere, "Rise", tonight, September 19th, at 10/9C on ABC. While you wait until 10pm, you can take a look at the promotional photos, promo, sneak peeks and teaser of this episode.