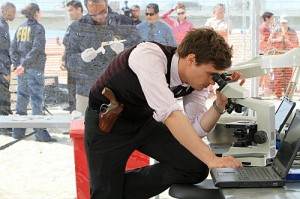 Tonight on the penultimate episode of Criminal Minds season 6 the BAU team head to Jacksonville, Florida where multiple remains have been discovered in the ocean. The case in "The Big Sea" becomes complicated for a couple of reasons; firstly it looks like the victims are compliant in their own deaths, as the unsub uses a powder that wills them to do his bidding and because it looks like one of the victims could be a relation of Morgan's (Shemar Moore). Morgan's aunt fears that her missing daughter might be included in the remains that have been found, which instantly makes the case difficult for him.
Beyond tonight's episode and even beyond season 6 there has already been talk of what might occur in Criminal Minds season 7, despite the fact that it hasn't officially been picked up (though there is no worry that it won't be). One story line that has been discussed by Executive Producer Erica Messer is relating to Dr. Spencer Reid (Matthew Gray Gubler) and the terrible headaches he started getting this season, beginning in "Corazon". His headaches have been mentioned since, first briefly to Prentiss (Paget Brewster) in "Vallhala" and most recently to Morgan in "With Friends Like These", though it looks like it won't be going much further than this in season 6. This story was originally implanted because at the time there were issues with Gubler's contract negotiations which have luckily been ironed out, could you imagine the uproar if Reid was written out of Criminal Minds? Fortunately that didn't happen, but the storyline was put in as a contingency plan and is something that will be explored next year. Are you concerned that this might have something to do with Reid's mother's (Jane Lynch) mental illness or do you think that the doctor was correct in his diagnosis in "Corazon" that they were merely psychosomatic?
Another character that looks set to have a big story line is BAU antagonist Erin Strauss (Jayne Atkinson), who is not all that popular with the team or the audience of Criminal Minds. After all it was her character that forced J.J. (A.J. Cook) to take the promotion at The Pentagon, however is Strauss also involved with J.J.'s imminent return? Strauss has also relieved some of her duties to Hotch (Thomas Gibson) as she will be absent from the BAU for a few months, which will prompt her story next season. Messer commented that
"Next season I'd like to show that she's actually human. She has issues like the rest of us. The team will see a new side of her."
With some hints about what is to come and as the season draws to a close are you satisfied with how season 6 of Criminal Minds has turned out? Does the cast shake up issues impact on your enjoyment of the show or are you relived that it has all been pretty much sorted out? Let us know in the comments and be sure to check out the promo for tonight's episode "The Big Sea" below.