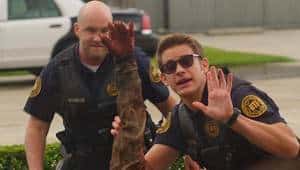 For most of its first nine episodes, MTV's Death Valley seemed to be content to bash some heads, throw in some dirty punchlines, and keep the UTF officers with their partners at all times. There was no shame in that formula, as the mockumentary based on a fictional task force was a whole lot of gory, silly fun that occasionally touched on the allegorical. However, now that the first season is drawing to a close, the show seems to be taking on more serialized elements.
Last week's "Tick…Tick…Boom!" introduced the idea of vampires controlling zombies, as Stubeck and Pierce caught a walking dead at Lucille's school with a bomb strapped inside of it. It looks like the vamps aren't giving up that easily, considering the hoard of zombies that are currently storming the UTF precinct, likely carrying some time of weaponry to be detonated one they infiltrate the offices. Most of season one has seen Dashell hassle Landry, Pierce annoy (and fascinate) Stubeck, and Rinaldi put up with John-John's advances, but "Assault on Precinct UTF" (a play on Assault on Precinct 13) brings together the entire UTF for what looks to be a bottle episode of sorts.
Can the team escape the precinct, driving the zombies out? Obviously if they didn't we'd have no show, but from the preview below, it looks as if the team will be using everything at their disposal to win. And I do mean everything, as John-John wields a thermos full of water, Pierce has a glass bottle that took three tries to break, and Landry gets to show off her spider monkey fighting techniques as the action gets serious. Say what you want about the UTF, but when they're backed into a corner, they never bow their heads in defeat and I'm looking forward to seeing them fight their way out of a possible zombie takeover.
Death Valley airs tonight at 11:00 on MTV.