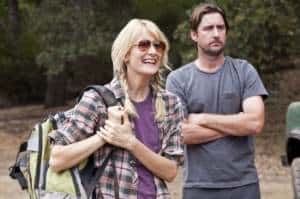 One of the most interesting things about Enlightened, HBO's newest comedy, is the contrast between its tone and its heroine. Amy Jellicoe wants to change the world, climb mountains, and save the homeless; she's a bundle of productive energy wrapped up in a peaceful package, all about forming new committees and pursuing her new passion of serving others. While you'd think this would make for a manic, nervous show, Enlightened is slow and calm, a flowing stream transporting the vessel of change known as Amy Jellicoe through the rapids of her post-breakdown life.
In 'Not Good Enough Mothers", Amy tries to channel some of her newfound energy, now that she and Levi have come to an understanding regarding their relationship. Instead of continuing to talk up new ventures as Abaddon or forcing herself into lunches with Krista and Damon, Amy decides to take up a new cause in a Mexican woman facing deportation. Per usual with "new Amy", she soon develops tunnel vision regarding the case and fails to see that sometimes the most charitable thing you can do is treat the people you interact with on a daily basis with respect and consideration. She means well, but her disenchantment toward her surroundings is growing with each episode; I can't say I blame her, though, with how poorly she's been treated by just about everyone.
It's now Amy's second week at Abaddon and it looks like she still hasn't fully embraced her new role on Level H. From the promo below, she finds a way to get into Krista's baby shower, but she spends her time proselytizing about women's committees and activism instead of just being a friend. Amy Jellicoe may have the best intentions in the world, but if she wants to start making progress at work in terms of her social standing (and activist aspirations), she may have to start listening a little more than she's talking.
Enlightened airs tonight at 9:30 on HBO.
[youtube http://www.youtube.com/watch?v=0oaMrcRAWS0]