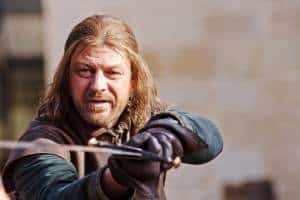 While I liked the last episode of Game of Thrones last week (because I like every episode of this great show), I didn't find it terribly exciting. I was, however, far more pleased with tonight's all new episode when I watched the screener. Here's a few things to look forward to on tonight's new episode of Game of Thrones.
Politics in King's Landing: Ned Stark is slowly but surely coming to realize that King's Landing is not a very safe place for him to be in. Everyone in King Robert's court is playing games but, more specifically, there are people out there who are eager to see the end of the King's Hand, the previous one and the current one. Ned learns more about John Arryn's death and the fact that he started asking many questions before he died. Do you remember Ned discovering the King's child at the end of the last episode? Could the fact that Arryn also met the boy have factored into his death? Let's just say that the presence of the King's illegitimate child is an important clue as to why Arryn was killed.
Ned's daughter, Ayra also overhears a plot to have her father killed, which she immediately tells him about. Already suspicious about his safety (and that of his family) in King's Landing, Ned is horrified when King Robert announces that Daenerys is pregnant and, because this baby threatens the safety of his throne, he wants her and the child dead. Ned's refusal to have any part in the plot leads to a falling out between him and the King.
The Starks: After capturing Tyrion at the end of the last episode and accusing him of plotting to kill her son Bran, Catelyn Stark takes her new prisoner to her sister: Lysa, the widow of John Arryn. Lysa is…frankly…completely insane. She's been driven mad by the recent death of her husband – and her suspicions surrounding his death. The only thing she has left to hold onto is her lands and her son, who is turning into a crazy, weird child under the attentions of his mother. Cat is, of course, somewhat horrified about the state of her sister. And how will Tyrion manage to free himself from his current imprisonment? You'll have to wait until next week to find out.
You'll also learn more about a few new characters in this episode, including King Robert's younger brother, who is…ahem…very close with the Knight of Flowers. Overall, the political intrigue made this another great episode of Game of Thrones. Don't miss an all new episode tonight on HBO!
You can view a sneak peek below from the beginning of the episode.
clarissa @ tvovermind.com
twitter.com/clarissa373
twitter.com/tvovermind