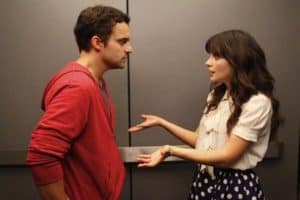 New Girl returns tonight after the unexpected X-Factor/baseball induced hiatus. To make up for this early break we have 3 sneak peeks from tonight's titillating sounding "Naked." Warning light spoilers ahead.
The last episode saw Jess (Zooey Deschanel) attending a wedding with the guys and she was tasked with playing the role of Nick's (Jake Johnson) girlfriend. This ploy was intended to stop Nick doing anything stupid with his ex-girlfriend Caroline (Mary Elizabeth Ellis). This did not go according to plan, despite the attempts to "suppress the Jess" and Nick ended up getting his heart broken all over again by his ex. Though with this final heartbreak Nick actually seems like he is finally letting go of Caroline and the wedding ended with the glorious slow motion chicken dance (which I may have watched several times during the break).
Nick does seem like he is ready to move on in tonight's episode as he has a date with an attractive co-worker, played by guest star Lake Bell (No Strings Attached, How to Make It in America). Unfortunately for Nick, just before he is about to leave for this date Jess walks in on him and sees him naked. This might not be the worst thing that could happen but Jess laughs, not the boost needed before a date. Making an awkward situation worse Jess tries to address what happened and as you can see from the second sneak peek below this goes as well as you would expect.
The date does seem to go rather well as the third sneak peek would suggest, however Jess tries to even the embarrassment scales which leads to a hilarious but extremely awkward and ill timed scene.
New Girl has been one of the successful new shows, but will this early break hinder the ratings or will the audience return just as strong? It looks like New Girl is returning with a very funny looking episode that is playing on the age old issues that comes with living with the opposite sex.
Are you glad to see New Girl return? Let us know your thoughts in the comments section.
New Girl airs tonight at 9/8c on Fox. For more information on forthcoming episodes head here and check out the promo and 3 sneak peeks for "Naked" below.