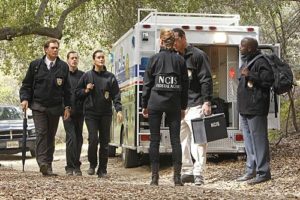 Tonight, the NCIS team learns that the Port-to-Port killer has managed to infiltrate the agency. In an effort to stop the killer once and for all, the team must race around the clock and chase down every lead to catch the killer. But what happens when someone close to the team members becomes the killer's next victim?
Several guest stars will be appearing on tonight's penultimate episode of NCIS, including, Sarah Jane Morris as Special Agent E.J. Barrett, Muse Watson as Mike Franks, David Dayan Fisher as Trent Kort, and Kerr Smith as Navy Lieutenant Jonas Cobb. According to NCIS producer Gary Glasberg (via Digital Spy), Kerr Smith's character will play a central role in the Port-to-Port case.
The season finale of NCIS will be airing next week on May 17, and executive producer Glasberg hints that not everyone will be alive by the end of the season. Apparently a "significant loss" will occur in the finale and some of the main case may not survive.
Below are promo photos for tonight's all new episode of NCIS, as well as a trailer.
[imagebrowser id=1017 template = flipped]
clarissa @ tvovermind.com
twitter.com/clarissa373
twitter.com/tvovermind