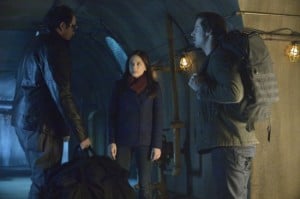 Last week's Beauty and the Beast episode, "Insatiable", definitely left us with our mouths wide open with that shocking cliffhanger! Just when it seemed Cat and Vincent were finally in a good and happy place in their relationship—boom, Tess shoots him! I'm sure you're all wondering what's going to happen to Vincent. Will Tess help Cat take Vincent somewhere safe to get treated? Not to worry because, according to the promo, Vincent is indeed alive and beastly. However, the answer to the second question is currently to be determined.
Tonight, Cat will be forced to reveal things that she had been keeping from Tess to salvage their fractured relationship, and of course, to help protect Vincent. However, Tess flips out and runs when she realizes that Cat knows the Beast…and did I mention she tells her she's in love with him? Yeah, that happens, but what also happens is a chase scene between Cat, Tess, and Vincent. And as if things couldn't be worse, it looks like Tess will be tranquillized with a syringe shot by JT following the chase. Let's think about this: Boyfriend's best friend shooting Girlfriend's best friend…that's not exactly a friendly way to meet, but hey, whatever helps your friend right? Now, I'm sure this will not make it any easier, but hopefully it will buy them time to convince Tess that Vincent is not the monster she thinks he is.
Also, it had seemed that Gabe arrived at the precinct with good intentions to form an elite team to hunt the beast the correct way, right? Wrong. As it turns out, he was the person who was setting Vincent up for last week's mimicked Beast murders — at least that was hinted upon during last week's episode when a piece of evidence turned out to be from an item in his house. And to make matters worse, he will insist on checking up on Tess because she hasn't been answering his phone calls.  We all know she's been tranquilized, but will he find out? Let's hope Vincent, Cat, and JT have a good plan, or they better come up with something quick!
Meanwhile, Evan witnesses Cat doing something that changes his opinion of her, making him even more determined to track down the Beast.
Watch the preview, sneak peek and producer's preview below and don't forget to watch the "Partners in Crime" episode of Beauty and the Beast at 9 p.m. ET/PT on The CW.
http://youtu.be/WfiSi7zzcY8
http://youtu.be/-a4tGLpH2eE
http://youtu.be/y8_W1o3GZDU