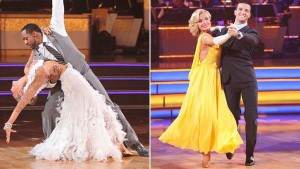 Tonight's Dancing with the Stars introduces the first of several theme nights in Season 14, this first one being 'The Most Memorable Year of My life'which is simply personal story night. The celebrity contestants will dance out a memorable story from their lives, set to any dance they have chosen. Here are the dances the couples have chosen to tell their personal story in week 3:
-Melissa Gilbert & Maks Chmerkovskiy: jive
-Katherine Jenkins & Mark Ballas: slow waltz
-William Levy & Cheryl Burke: salsa
-Gladys Knight & Tristan MacManus: foxtrot
-Jack Wagner & Anna Trebunksaya: samba
-Roshon Fegan & Chelsie Hightower: samba
-Sherri Shepherd & Val Chmerkovskiy: rumba
-Jaleel White & Kym Johnson: rumba
-Maria Menounos & Derek Hough: rumba
-Donald Driver & Peta Murgatroyd: rumba
-Gavin DeGraw & Karina Smirnoff: rumba
This personal story theme is usually well received by viewers and fans, as long as the contestants use a story the audience can relate to on an emotional level. When they don't, it can go terribly wrong. Case in point: Kristin Cavallari in Dancing with the Stars Season 13. While her competitors danced out sadness, pain and triumph from issues with family, divorce and addiction, Ms.Cavallari chose a story about having to decide between pursuing acting or attending college. Although one of the better dancers cast that season, Kristin found herself booted off the next night. Now maybe she was too young to have suffered any real hardship in her life as of yet, but that emotionally devoid story simply turned off the viewers. Hopefully these contestants got the memo. Oh, and they have to dance well too of course!
So how will they do? The rumba is a lot harder than it might seem, so I worry for Gavin with this one. He hasn't shown all that much promise thus far. Sherri is likely to bring the good emotional story, but the steps could prove challenging. Donald should do okay with the movement, and ordinarily I'd say Jaleel would too, except that he tweeted that he hasn't had much time to rehearse for tomorrow. Don't know what he's been busy with aside from deflecting some nasty allegations made by an ex-girlfriend. Not sure that Melissa can handle the energetic kicks and flicks of the jive. William will probably nail his salsa since it's the one dance he claims he could do pre-Dancing with the Stars. With partner Cheryl helping him refine it, he should be fine.
Roshon should do well with the samba, as long as he stays disciplined and doesn't add the hip hop. Jack is a bit challenged by technicality (so says Len Goodman) and by hip action (by his own admission) but according to his tweets, he's putting a lot of time into his samba. He will be dancing to one of his own songs, which in theory could be a plus, but could the band's rendition distract him? Gladys had some issues with her quickstep, and the foxtrot is similar, though at a much slower pace. Hard to make a call on that one. Katherine will ace the waltz because she has the elegance and refinement that a waltz absolutely requires.
The Dancing with the Stars 2 hour live performance show for week 3 kicks off tonight, Monday, April 3 at 8 p.m. (ET) on ABC.