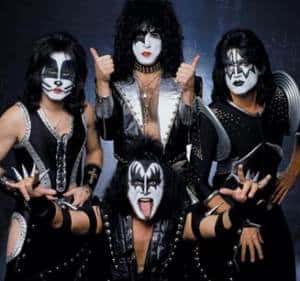 Tonight the Dancing with the Stars ballroom rocks out as the contestants take on aggressive dances set to the tunes of rock and roll. The '˜hottest band in the world', KISS, will perform on both nights this week, promoting their upcoming tour. Get ready to see the famous facepaint on some of the cast. Pro dancers Mark Ballas and Chelsie Hightower are set to dance to the KISS performance on Tuesday's Dancing with the Stars Results Show. The dances this week are mostly paso doble and tango, with the exception of a jive and waltz:
-William Levy & Cheryl Burke: jive
-Sherri Shepherd & Val Chmerkovskiy: tango
-Gavin DeGraw & Karina Smirnoff: tango
-Maria Menounos & Derkek Hough: tango
-Jaleel White & Kym Johnson: tango
-Gladys Knight & Tristan MacManus: tango
-Donald Driver & Peta Murgatroyd: paso doble
-Katherine Jenkins & Mark Ballas: paso doble
-Melissa Gilbert & Maks Chmerkovskiy: paso doble
-Roshon Fegan & Chelsie Hightower: Viennese Waltz
The paso and tango are fine for rock music, because they are both aggressive styles of dance. Jive was danced to the rock music of the 1950s, so that works too. But a Viennese Waltz? It's completely wrong. This can only hurt Roshon's chances of climbing up the Dancing with the Stars leaderboard where he belongs. His skills are amazing, but no matter what partner Chelsie choreos for them, I can hear the judges'comments already: 'it just didn't suit the music', 'there was no essence of rock'blah blah blah. Hopefully the elegance that Roshon can project will at least win over Len Goodman. William has Tweeted his frustration with learning the jive, but don't worry for him. With the audience reaction and the judges over-scoring, he can just stand there and he'll do well.
The Dancing with the Stars 2 hour live performance show airs Monday, April 9 at 8 p.m. (ET) on ABC.