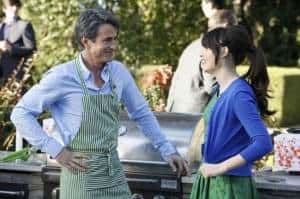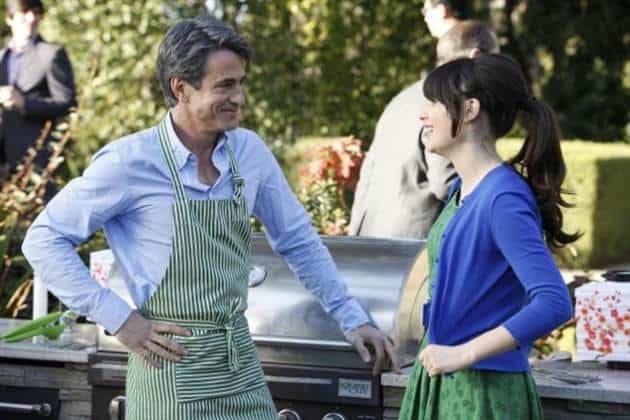 Jess finds herself having both a conflict and a connection with the father of one of her students on tonight's New Girl. Dermot Mulroney is guest starring as Russell; a wealthy and handsome father who disagrees with some of Jess' (Zooey Deschanel) more creative teaching methods. There are other conflicts taking place tonight between Winston (Lamorne Morris) and Schmidt (Max Greenfield) as they become ultra competitive over bar trivia. Nick (Jake Johnson) meanwhile continues to have financial issues.
Jess has had a couple of love interests since her break-up in the pilot episode; including an attempted one-night stand with guest star Ryan Kwanten and a brief relationship with her co-worker Paul (Justin Long), who we will be seeing again before the end of this season. Dermot Mulroney will be playing a different kind of guy to the ones that we usually see Jess hanging out with or dating. At the recent PaleyFest panel they described Mulroney's character Russell as being sophisticated and fancy (the episode is called "Fancy Man") and even though he doesn't get off to a good start with Jess after criticizing her teaching technique there is also an attraction. Jess is not the only one who will be swayed by Russell's charm and the guys will also become smitten with Russell in this two-part affair (the second part will air next week).
Nick will be the one to develop the biggest man crush on Russell and his lofty lifestyle and this might be thanks to Nick's current financial situation. Nick needs to get a phone which should be simple enough but unfortunately his credit rating is very low, so low that Winston refers to Nick as having "the credit score of a homeless ghost." You would expect Nick to react negatively to this amount of wealth as one of the sneak peeks would suggest, but it would seem like Russell can charm even the most cynical of people.
Winston is the character who is still the least developed of the group and this is probably in part due to replacing Damon Wayans Jr after the pilot episode, but by now they should be giving Winston decent stories and character development. It finally looks like this is occurring and really began last week with a hilarious dispute with Nick over money that ended with a slap fight in a supermarket. Tonight we will get to see Winston's competitive side come out again as he becomes embroiled in a battle with Schmidt over bar trivia. Winston's love interest Shelby (Kali Hawk) will also be making an appearance which is likely to spur on Winston's ego, especially as Schmidt does indeed seem very good at knowing random facts.
This is the first time that New Girl has done a two-part episode and one that will see Jess going from being infuriated by guest star Dermot Mulroney to being charmed by him. This is of course as classic romcom set up and this show has been using these tropes throughout the season, but they also add something to the scenario. Also if you are after some toilet humor there is an excellent (and very literal) bidet joke that you can see in the sneak peeks below.
It is also coming to that time of year when they are announcing season finale dates and New Girl will air their finale on Tuesday, May 8. For more of the Fox season finale dates head here.
Watch a teaser and six sneak peeks below for tonight's episode of New Girl. Use the arrows above to browse through photos for the episode.