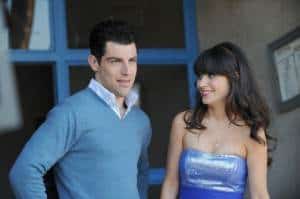 It's Schmidt's (Max Greenfield) 29th birthday on tonight's all new episode of New Girl and when his plans fall apart, Jess (Zooey Deschanel) is determined to organize the ultimate birthday party for her roommate. What could possibly go wrong?
To organize such a bash Jess goes to her party hungry vice-principal, played by guest star Rachael Harris (The Hangover, Diary of a Wimpy Kid), so Schmidt can have the birthday party that he deserves. This birthday party will also be the location of Nick (Jake Johnson) introducing Julia to his roommates. Julia is a beautiful lawyer who has a big secret and is played by guest star Lizzy Caplan (Party Down, True Blood); we first reported this news a few months ago and if you want to find out what this secret that she is harboring is click here. Nick is unhappy about this date taking place at Schmidt's birthday party and is concerned that Julia will be put off him when she encounters the rest of the gang.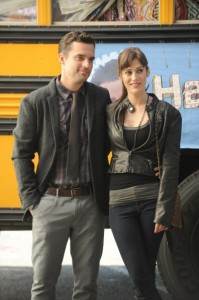 Jess and Paul's (Justin Long) relationship ended in the last episode and with this new love interest for Nick, it would appear that fans hoping for a development in Jess and Nick's relationship will be disappointed. Buzzsugar recently spoke to Jake Johnson about his thoughts on a Nick/Jess hook up and he revealed why he doesn't think that it will be happening any time soon:
"I think there's something between the two characters, but I think they are – like in real life – if you feel a connection with somebody but also live with them, you don't actually want to do it, because it could get very real very fast. And I think that's where Nick and Jess are. I think they've noticed each other, I think there's an attraction, but I don't think either of them wants to have a live-in boyfriend or girlfriend, who they just met."
This makes a lot of sense and despite the chemistry between the pair, I like that they are exploring other romantic possibilities for the pair that include Lizzy Caplan tonight and Ryan Kwanten (True Blood) in the forthcoming Valentine's Day episode. Jess will also be getting attention from an older man as Dermot Mulroney (My Best Friend's Wedding, Friends) will appear in a forthcoming episode as the father of one of Jess' students.
Also why is someone having to put $50 into the douchbag jar?
Watch a promo for tonight's episode of New Girl "The Story of the 50" below.