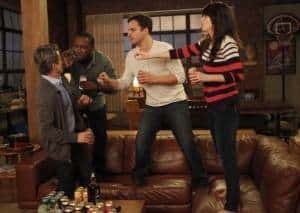 It's time for more fancyman on tonight's New Girl as Russell (Dermot Mulroney) comes to stay for the weekend at the loft and Jess (Zooey Deschanel) is concerned about whether he will get along with the guys; but what happens if he gets on with them too well?
After Jess spends a week with Russell away from the loft, Cece (Hannah Simone) suggests that Jess should invite Russell to spend some time in Jess' non-fancy world. We have already seen that Nick (Jake Johnson) is a big fan of Russell after he got a big man crush on him a few weeks ago and it looks like Winston (Lamorne Morris) and Schmidt (Max Greenfield) will have similar feelings towards Jess' new boyfriend.
Get ready for some big drinking game fun tonight as the gang teach Russell their epic sounding "True American" game which has pretend lava, lying, Presidents and plenty of alcohol. Will Russell be able to keep up with the guys? Or will he drink them all under the table?
The past few episodes have used Winston rather well; one highlight being his Theodore K. Mullins monologue to show how unhappy he was to be woken on a Saturday morning in last week's "Secrets." It looks like this could be another great week for Winston fans as he gets a new job at a sports radio station that could prevent him from going "full Poppins." This job comes with both negative and positive aspects; his boss is more of a shock jock, but he will also get to work with Kareem Abdul Jabbar (playing himself) who is the NBA all-time leading scorer. Will Winston manage to stick it out with this new job?
Nick is also trying to make some money beyond working in the bar and as we have seen in previous episodes Nick likes to fix things in inventive ways. Tonight Nick will be looking in his "Idea Notebook" to try and turn one of these concepts into a reality. This probably won't end well or with Nick making his millions.
There was good news yesterday for fans of New Girl as Fox announced that the show has been picked up for a second season. In other New Girl news Zooey Deschanel is the cover star of the May issue of Marie Claire magazine that will hit newsstands April 17 and Jake Johnson is featured in Paper magazine this month as one of their beautiful people of 2012.
Are you looking forward to seeing more Russell on New Girl tonight? Let us know your thoughts in the comments.