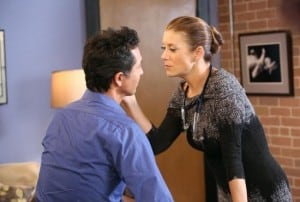 Private Practice celebrated its 100th episode last week, by way of a funeral 'party' for Dr. Pete Wilder.  The episode cut to the heart of the characters' grief in the midst of a Balinese style celebration of Pete's life, which, as expected, was more painful to watch than the Pete likely intended in his will.
Violet spent the hour struggling with the reality that her husband is now dead, trying not to crack while listening to stories from grateful patients of his.  Of course, the meltdown came after an amusingly sad toking session in Addison's upstairs bathroom.  Though her friends were at her side, the failed 'celebration' became too much and Vi broke down, cursing Pete for being a caring doctor but a terrible husband, and for leaving she and Lucas alone.
The episode also shed light onto the rest of the doctors' memories of Pete, regrets from final conversations with the man, and wishes that someone would've have treated him as well as he did others.
The episode emphasized humanity, and the challenges we all deal with when it comes to thinking of our own mortality.  We saw Violet ask Cooper and Charlotte to take care of Lucas should something happen to her, Addison asking the same of Amelia for Henry, and we also saw Sheldon's internal struggle when saving the life of a patient whom he did not completely believe deserved a second chance.
Everyone is still mourning the loss of a friend, double for Addison and Sam with the death of Mark Sloan on Grey's Anatomy, and it seems that Private Practice is moving forward with that theme of grief and struggle for the season.  On tonight's episode, "Good Grief":
After hearing a patient's chilling confession, Violet turns to Sheldon for advice.  Meanwhile, Addison tries to keep her grief a secret, Cooper and Charlotte adapt to their new reality and Sam confronts Sheldon about his denial.
http://www.youtube.com/watch?v=UJ6svExkKTg
Private Practice airs tonight at 10/9c on ABC.