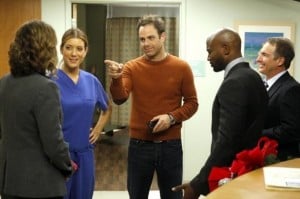 In the past weeks each episode of Private Practice has been a study of a single character along the same timeline — meaning, we saw each character's story, separately, as each episode started back at the beginning of a certain time period.
Tonight. however, would appear to be the end of such storytelling.
On tonight's Private Practice, titled "Full Release," Addison attends Henry's court date only to find that the judge still has reservations based on Jake's past.  If you would, remember back to "The World According To Jake," and the fact that he has an arrest record for beating up his late wife's drug dealer.  At the time, Addison stayed confident, while Jake worried, though it is entirely possible that all of that will change tonight.
Sheldon will also introduce Miranda to his friends, while Cooper's plans to find the King-Freedman dream home are halted when Charlotte goes into labor.  Will all go smoothly?
Well, it's a Shonda Rhimes drama so…probably not.
Private Practice airs tonight at 10/9c on ABC.
Check out the promo below!
http://www.youtube.com/watch?v=HF3F9PbIX94