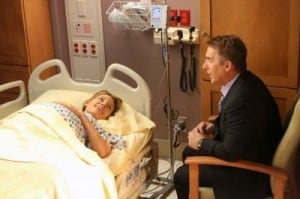 Previously, Private Practice has been shifting weekly to different members of the practice, using more edgy filming styles for the final thirteen episodes.  Last week, we watched the progression of Charlotte's pregnancy through Cooper's eyes, and shared in his excitement and fear over the new arrivals.
Tonight the Grey's spinoff will shine the light on Dr. Sheldon Wallace.
Sheldon's presence has been strangely minimal in the episodes thus far, though we have gotten hints of what's to come for the therapist.  The premiere introduced the idea that Sheldon may be forced to deal with the realities of prostate cancer, and we've also seen him suggest a little more to his romantic side than ever before.
Tonight, a mysterious new woman brings some joy back into his life, but with Sarah Nolan's case still looming, Sheldon can't help but begin to suspect one of his patients to be involved in her disappearance.
Personally, I'm looking forward to seeing what Brian Benben brings to the hour.
Check out the promo for "I'm Fine" below
http://www.youtube.com/watch?v=yvDtitvbDK0
And watch Private Practice tonight at 10/9c on ABC.