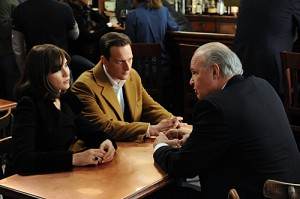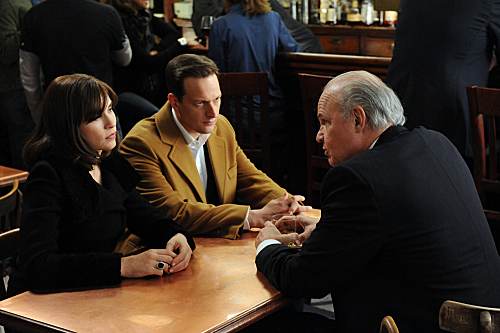 The opening of last week's preview for The Good Wife could easily apply again as Michael J. Fox returns tonight as antagonist Louis Canning and Alicia will be facing him in court once again. Fox isn't the only returning guest star as Will's ex-girlfriend Tammy (Elizabeth Reaser) and potential Diane (Christine Baranski) love interest Jack Copeland (Bryan Brown) are also featuring tonight.
The last time Canning appeared it marked a significant moment for Alicia this season; her daughter went missing (or rather she didn't, Alicia just feared she had) and Alicia broke things off with Will (Josh Charles). Canning offered Alicia a job, as he does whenever he crosses paths with her and tonight Canning will do the same, but will Alicia take this offer seriously considering her financial situation?
Last week Alicia found out that her comfortable living arrangement was about to be disrupted and so she began to seriously look at buying a new place; this even included an emotional trip back to their family home in Highland Park, a house that is now back on the market. As Alicia discovered in that tear inducing scene you can never really go home when there are moments of hurt and betrayal amidst happy memories. Alicia did approach Diane regarding this raise but the matter wasn't resolved; will Alicia use this offer from Canning as leverage? Will Diane give Alicia what she wants? Considering the Caitlin (Anna Camp) twist (that was completely unexpected and brilliant) in the last episode it would seem likely that Alicia will have an increased work load and Alicia already has more responsibility with Will's forced absence.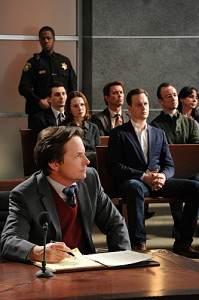 Will of course is still working in a limited capacity and figuring out exactly what he can and can't do all seems to be down to semantics and asking hypothetical questions. One of these conversations occurred between Will and Alicia in "Long Way Home" and it showed that these two may no longer be having a sexual relationship, but there is still a closeness and affection between them.
This could be challenged this week with Tammy's return who looks happy to see her ex, but also finds the time to confront Alicia who she blames for the ending of her relationship with Will. In this promo you will see that Alicia is less than happy with Tammy's appearance. Tammy's presence is thanks to this week's case as they are taking on professional hockey and sports are Tammy's area of expertise.
Diane's love life is a little less complicated; after all the stress with the firm and the male egos in the office that Diane has to contend with she definitely deserves some fun. Jack could be the right distraction, that's as long as he doesn't come to the office to serve any papers of course. Jack isn't Diane's only potential suitor and Gary Cole will be featuring as gun expert Kurt McVeigh; double the enjoyment for both Diane and viewers.
Cary (Matt Czuchry) is another character who has let his personal and professional life become entangled and he told Peter (Chris Noth) about his relationship with Dana (Monica Raymund) after another supervisor was punished for sleeping with co-worker. Peter was willing to let this slide but Cary insisted that he should punished too, this matter was left unresolved so will we find Cary hanging out with Will in a suspended lawyers club?
Are you looking forward to seeing Michael J. Fox again? Will Alicia take Canning's offer? How will Alicia react to Tammy's accusations? Let us know your thoughts in the comments.
In excellent news CBS has renewed The Good Wife for a fourth season and to see our thoughts on this head here. For a promo of tonight's episode "Gloves Come Off" head here.
For a sneak peek of tonight's episode watch the video below.