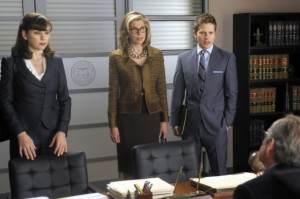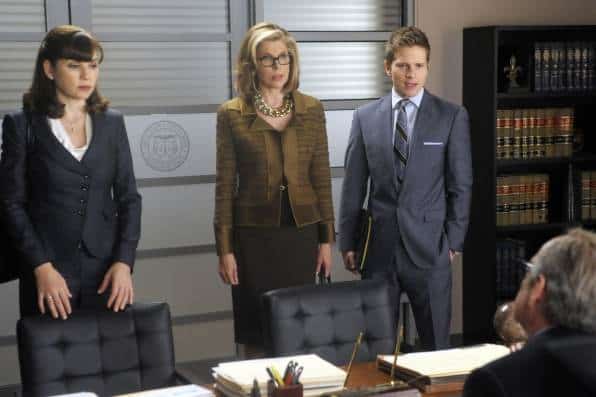 Season 3 of The Good Wife has flown by and we have a lot of ground to cover in the penultimate episode tonight. Last week Peter (Chris Noth) officially announced his decision to run as governor, even with the Matthew Perry shaped obstacle in the way. This week's episode looks like it will be concentrating on Cary (Matt Czuchry) and Kalinda (Archie Panjabi) and decisions that could affect both of their futures. Spoilers ahead.
Since Cary's demotion at the SA office he has lost some of his spark that made him such a formidable opponent and even Alicia (Julianna Margulies) commented on how unhappy he seemed last week. Anyone who has seen the promotional material for these last few episodes of The Good Wife knows that this unhappiness will be leading Cary to make a huge career decision and it would appear that he will be returning to the 'dark side' that is the private sector. While Cary's time at the SA office has been interesting to watch it has also meant that Cary has had a reduced role; there is only so much that can be done with Cary working in another office. This show is great with the guest stars that have appeared this year, but on occasion it feels like the regular cast gets a short shrift in favor of those who are appearing in an episode or two and Cary has definitely suffered this year outside of the Wendy Scott-Carr story,
We have seen that Cary respects and enjoys working for Peter, but as Peter will be occupied with another campaign this could be the perfect time for Cary to return to Lockhart Gardner. Cary has also seen that the SA office isn't squeaky clean and free from unethical practices and so returning to the side of the defense might not seem as 'dirty' now. For more reasons as to why Cary should return to Lockhart Gardner you should check out this rather comprehensive and brilliant list here.
One relationship that is still not so perfect and could be awkward if Cary does indeed return to Lockhart Gardner is with Kalinda. There has been very much a push and pull between these two this year and even though it is more civil now, there is definitely some unresolved tension. Kalinda will have other things on her mind tonight as there will be repercussions to deal with resulting from Agent Delaney's (Jill Flint) investigation. What could these repercussions be? At least we know that Kalinda has a good lawyer and hopefully this might lead to a bar scene that has been missing for over a season now.
Last week we met a Callie (Julianne Nicholson), a lawyer that Will (Josh Charles) has a past connection with and looks set to have a romantic involvement with in the present. This will be much to the dismay of fans of Will and Alicia who are hoping to get a brief moment as good as last season's finale. Unfortunately for Will his personal and professional interactions might crossover again as it appears that Diane (Christine Baranski) has interviewed Callie for a job. Diane chastises her partner and tells him "Could you please leave your pants zipped!" Good advice there.
It looks like we have a Peter/Will/Alicia scene to look forward to and it is unclear whether Alicia will be returning to her husband for his campaign period; will you be surprised if she makes the decision to support Peter by taking the role of 'the good wife' again? If Alicia does make this choice will that negate everything that has happened this season in terms of her independence?
There is also a case in tonight's episode "The Penalty Box" (sports reference ahoy!) and Alicia defends Judge Cuesta (David Paymer) against misconduct charges that stem from his days as a prosecutor. Recently the cases have not been as essential to the storyline which is only natural at this point in the season but seeing a judge in this position will definitely be a change, especially as it is a judges that has appeared multiple times on The Good Wife.
In some non-plot related Good Wife news CBS has just announced that there will be a Good Wife home decor line. This line is in response to comments from viewers and critics regarding the fantastic set design. The products will include furniture, lightening and accessories and will feature in the sets of season 4. Would you consider buying something from this line?
Use the arrows above to browse through photos for the episode and watch a clip below. For all of our coverage of the show, including sneak peeks, spoilers and more, browse and bookmark our showpage for The Good Wife.