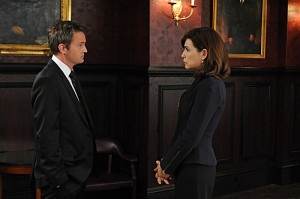 Matthew Perry is joining the ever growing and impressive list of guest stars that appear on The Good Wife and this will be the first of several appearances. Perry is playing Mike Kresteva, the chairman of a blue ribbon panel that Alicia (Julianna Margulies) has been assigned to, a panel that is investigating an Internal Affairs matter relating to a police shooting. Elsewhere on tonight's episode Kalinda (Archie Pajabi) is continuing to have issues with the IRS that will see a face from her past return and the fight for more power between the equity partners at Lockhart Gardner rages on.
As with all things politically and law related in The Good Wife the two are entwined, so there are a couple of other members of the blue ribbon panel that will be familiar to you and these are Judge Dunaway (Kurt Fuller) and Judge Winter (Peter Riegert). These two judges also happen to be two out of the three judges that Will (Josh Charles) was accused of bribing. A blue ribbon panel uses these kinds of professionals and experts to give their recommendations to help with controversial cases, though they have no actual authority in these cases; just their opinions and findings. Alicia questions the actions of Mike and the two will clash throughout the episode.
In her personal life Alicia is continuing to try and buy her former house and with the bonus that she was given by Diane (Christine Baranski) this will certainly help. If you're wondering why Alicia does want to return to the house that encapsulates happiness and sadness then the flashbacks in tonight's episode might provide answers. If you're looking for a good number of reasons why Alicia shouldn't move back to Highland Park then check out this thorough list here.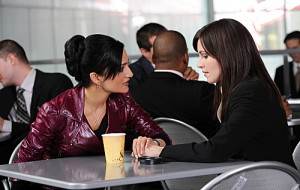 It looks like Alicia might have a drinking buddy soon as things started to become friendlier between Alicia and Kalinda last week. That was after Alicia refused an offer of a beer from her former friend, but after a not so delightful conversation between Alicia and Tammy (Elizabeth Reaser), Alicia seemed to realize that maybe she does need a friend like Kalinda after all. The topic of the conversation between Alicia and Tammy was Will related and Tammy blames Alicia for how things ended with her and Will. This conversation about sex and loyalty could possibly have spurred Alicia to reconnect with Kalinda. Whatever Alicia's reasons this is an excellent development and one that will probably help how the pair work together, especially as Kalinda's IRS related case comes into focus tonight. We will also see the return of FBI Agent Lana Delaney (Jill Flint) who also happens to be a former love interest for Kalinda; will she be helping with this IRS problem?
One person who isn't having a terrific time at work is Cary (Matt Czuchry) as he has been demoted after he revealed to Peter (Chris Noth) that he had a relationship with colleague Dana (Monica Raymund). Cary did want to be given a suitable punishment and so he got his wish, but will he regret being so forthcoming now that he is back in his former position? There was a really lovely scene between Cary and Alicia last week that doesn't really have much to do with the overall plot but shows just how far these two former rivals have come.
Diane got to have some fun last week, setting up dates with former lover Kurt (Gary Cole) and new love interest Jack (Bryan Brown) and I only wish we could have seen the fishing date with Kurt just to see what Diane would wear. Unsurprisingly the battle for Will's seat at the firm continues and a named partner will be announced soon; will it be Julius (Michael Boatman), David Lee (Zach Grenier) or Eli (Alan Cumming)?
This looks set to be another fantastic episode of The Good Wife and Matthew Perry is set to play an interesting antagonist as Alicia has to deal with both professional and personal obstacles tonight. Are you looking forward to Perry playing a not-so-friendly guy?
You can watch a sneak peek for "Blue Ribbon Panel" below and to check out the promo video and photos head here. CBS has announced their finale dates and The Good Wife will air their season 3 finale Sunday, April 29 and to find out spoilers for the finale head here.