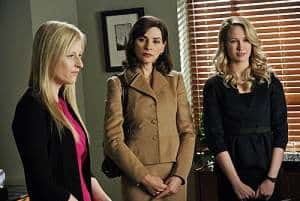 The Good Wife is certainly going to have a very different dynamic now that Lockhart Gardner is Lockhart & Associates after Will (Josh Charles) took a forced six-month absence from practising law. After successfully beating Wendy Scott-Carr (Anika Noni Rose) Will faced the Illinois State Bar Association who were investigating his past misdemeanor of having borrowed $45,000 from a clients account. To prevent Will's possible disbarment he decided that taking the six-month suspension was the most sensible plan of action and this leaves Diane (Christine Baranski) with a major power struggle at the firm. We have a sneak peek of how these changes are affecting both Will and Diane below.
As we have seen previously there are some very big egos in this office and they don't play well together. You will not be surprised to hear then that the equity partners who will be vying for power thanks to Will's absence are David Lee (Zach Grenier) and Julius Cain (Michael Boatman). Both appear to want more now that Will is out of the picture for six months and they will not want the other to get the upper hand. Diane is smart and we have seen her wrangle these headstrong men before, but this is a new scenario and Will is not there to help her enforce a sense of control. You can also bet that Eli (Alan Cumming) will also be joining in with this power struggle and this should provide some comedic moments amongst the chaos.
There is another power struggle taking place between Alicia (Julianna Margulies) and Caitlin (Anna Camp) as they have both been given more responsibility in the wake of Will's temporary departure. Kalinda (Archie Panjabi) doesn't think that Caitlin can be trusted and tells Alicia that she should watch out for her. Kalinda is a naturally suspicious person but she is also often right in her assumptions so what do you think Caitlin could be hiding? The case that Alicia and Caitlin are working on has them defending a documentary filmmaker who has been blamed for his student's suicide. They will be squaring up against the deliciously detestable Nancy Crozier (Mamie Gummer) who has proven to be a formidable opponent in the past and could be the perfect foil for Caitlin. Obviously Alicia will want to win the case but will she also use this opportunity to assert her authority?
One relationship that thankfully appears to be improving is between Alicia and Kalinda and this could be helped further by the case that Will handed over to Alicia in the last episode that is concerning Kalinda; what do you think this case is really about? Kalinda is also providing a sounding board for Will as he is now stuck at home and executive producer Robert King told TV Guide that "At strange times like this, Kalinda, as cold as she can be, has a certain warmth and affection toward Will that starts popping up again." The Will/Kalinda dynamic is a really intriguing one as there is nothing remotely romantic between the pair and is purely platonic on both sides. That doesn't mean that Alicia would react favorably to this friendship if she were to find out about it thanks to Kalinda's past betrayal, though Will certainly has a strong support system to get him through these six months.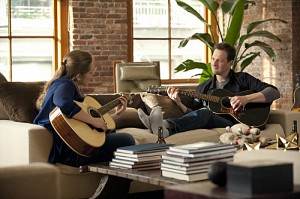 Will also has two sisters who we will be meeting tonight; Merritt Wever (Nurse Jackie) is playing Will's younger sibling Aubrey who is a rebellious free spirited type and Nadia Dajani (The Big C) has the role of Will's older more responsible and controlling sister Sara. The pair wants to fix Will's life in the wake of this big work crisis and this means fixing his love life. Both sisters will be recurring characters and we can but hope that they will get to interact with the other sibling of the show and that is Alicia's brother Owen (Dallas Roberts). Will clearly has strong female influence in his life from his work colleagues to the women he clearly loves and this just adds another layer to his character. There is now a challenge for the writers to keep Will included in the show despite not being able to practice law and by exploring these previously unseen relationships it will certainly inject a fresh aspect into The Good Wife and with his character.
Also look out for Democratic political strategist Donna Brazile who will be playing herself again. Brazile last appeared in the episode "Marthas and Caitlins" to discuss Peter's (Chris Noth) campaign with Eli. Does this mean that the question of Alicia and Peter's marriage will be raised again?
The new conflicts that have been created since Will's temporary departure should spark some inspiring stories as all the characters struggle to assert themselves and try and use this moment to propel their careers. This is an unexpected turn from The Good Wife and proves once again that this show has the ability to surprise beyond being a simple law procedural.
What are your thoughts on Will's temporary departure? Do you trust Caitlin? Let us know in the comments section.
For promo photos and video for "After the Fall" head here.
Watch a sneak peek for tonight's episode below.