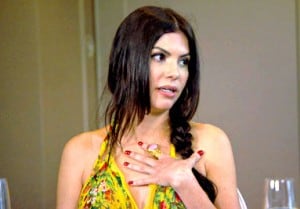 By looking at the title of last week's episode of The Real Housewives of Miami, a shade of red took over my mental peripheral, which could only be cured by a new episode of The Real Housewives of Beverly Hills. Unfortunately, that diamond in the rough won't be here for another month so we are stuck with the RHONY and RHONJ reunions and The Real Housewives of Miami until then. The RHOM episode title, which was called "She Beat Me To The Tweet," sounded so ridiculous and trivial that I didn't think anything would come from the episode except Adriana de Moura's nonstop whining over a missed opportunity to tweet something that Dr. Karent Sierra tweeted first. I feel fifty shades dumber for even typing that last sentence, but I digress.
The point of the matter is that instead of a banal excuse for drama, the tweet scandal brought out the claws between Dr. Karent and Adriana, which could fuel the much-needed conflict of the season since previous attempts (Marysol vs. Lea; Ana vs. Dr. Karent) arrived D.O.A. into the "Who Gives a Damn?" section of the viewing audience's mind. Now if the clips for tonight's episode are any indicator, then the real battle of the Miami mamacitas is finally about to commence.
In the first clip, we have Dr. Karent Sierra welcoming home her boyfriend Ruldolfo, who immediately grows weary of Dr. Karent's spiel about her fellow cast mates. Um, has he forgotten that not only did Dr. Karent sign up to be on The Real Housewives of Miami, but that he did as well? Plus, I feel that Rudolfo's indifference towards any mention of the other women is due to him probably being guilty about texting Ana Quincoces. Oh well…:
Dr. Karent better put on her "heels" if she wants to make it out alive with this group of women. Speaking of which, Adriana doesn't hold back on her feelings for the Miami dentist in this next clip. This sneak peek also starts off with Joanna calling out Adriana for flirting with Romain, but instead of getting a concrete answer on that, Joanna ended up for defending her friend Dr. Karent from Adriana's wrath. Take a look:
Even though the basis of the Adriana vs. Dr. Karent feud is mundane and silly as a high school cheerleader slapfest, the result looks to be packed with enough drama to sustain us for the rest of this season. At least we hope…
The Real Housewives of Miami airs Thurdays @9/8c on Bravo.
Photo Credit: Bravo