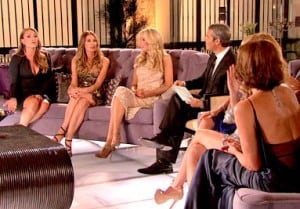 Tonight is the first part of The Real Housewives of New York City season five reunion and the latest clip features LuAnn de Lesseps trying her damnedest to stay relevant enough for a seat on the show next season.
Besides thinking about having a baby with Jacques and her tryst with Tomas (the Johnny Depp-look alike from St. Barth's), LuAnn really didn't have much to offer in the world of The Real Housewives of New York City this year. Now with the reunion being her last chance at proving her worth to Andy Cohen, LuAnn has zeroed in on newbies Carole Radziwell and Heather Thomson to spar with verbally, but is it too little too late?
For LuAnn to call Heather out for not taking up for her was just… bonkers. As Heather said in the clip, when did she not take up for LuAnn this year? Talk about not being attentive or thankful for your friend's loyalty, two attributes the wannabe Emily Post Countess should know by heart. As for being upset over Carole's confessionals about her, LuAnn might want to review the past four seasons of The Real Housewives of New York City before passing judgement on any one's behavior. LuAnn? Here's the Have A Seat Award for the week. You've earned it.
With that said, it's interesting for all the women agreeing on Carole being what they perceived to be 'two-faced' in her confessionals. Hell, even Aviva made some sense in explaining to Carole why everyone was thrown aback by her candid thoughts. While all the women made their points clear, and I can actually see where they are coming from in their concerns, I still believe that Carole follows a certain code of waiting for the perfect time and place to 'make a scene' instead of acting a fool at the click of Louboutin stiletto on a nicely waxed floor. What's wrong with that?
The Real Housewives of New York City reunion airs tonight @9/8c on Bravo.
Photo Credit: Bravo.