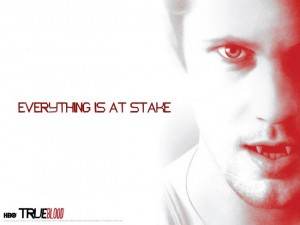 True Blood returns tonight and it looks like several of the characters have major clean up operations on their hands due to the vast amount of blood that was shed in the season 4 finale. After the Marnie (Fiona Shaw) problem was taken care of there were other major vampire and werewolf conflicts that will be resuming when we return to Bon Temps tonight. So what can we expect?
The fate of Tara (Rutina Wesley) will be revealed early in the season 5 premiere as she took a bullet to the head from werewolf/Sookie hater Debbie (Brit Morgan). It looked like Tara was not long for this world but this being True Blood expect anything to happen. Sookie (Anna Paquin) will receive some help from an unexpected source to deal with the aftermath of this fight. Lafayette (Nelsan Ellis) has the death of Jesus (Kevin Alejandro) to come to terms with, so this Tara bullet to the head incident will not help Lafayette's emotional state.
Sookie will also receive a warning from Alcide (Joe Manganiello) thanks to Russell Edgington's (Denis O'Hare) escape from his concrete grave. Sookie believed that they had killed Russell back at the end of season 3 and as you can see in one of the clips below Alcide can't offer a reason as to why Russell was not killed. Alcide wants to protect Sookie from the King but Sookie has reasons to stay; is this related to Tara? This isn't the only problem that Alcide has to contend with as another bloodbath that has to be cleaned up involves his wolf pack and Sam (Sam Trammell).
It's looking like a really good decision that Sookie opted for neither Eric (Alexander Skarsgård) nor Bill (Stephen Moyer) as thanks to their actions at the end of last year they now have to answer to the mysterious Vampire Authority. The clip below shows Eric getting his Mary Poppins on as he cleans up what remains of Nan Flanagan (Jessica Tuck) while Bill talks to someone on the phone (presumably Jessica). Bill and Eric will have to put all of their differences aside to figure out how they can escape their 'true death' for killing Flanagan. They will receive a visit from the Vampire Authority, including a face from Eric's past.
With Bill away this leaves Jessica (Deborah Ann Woll) to do what she pleases and what she wants to do is party with college kids. Jessica told Jason (Ryan Kwanten) that she wanted to keep things casual as she is yet to experience anything outside of serious relationship. This being True Blood expect Jessica to sow her wild oats in the wildest of ways. Jason also has to deal with the unexpected return of Rev. Steve Newlin (Michael McMillian) who might have more than just his new vampire status to share.
Last season Scott Foley joined the cast as Terry's (Todd Lowe) Marine buddy Patrick who served with him in Iraq. Despite the pleasantries on the surface all doesn't seem quite right here and we will learn the source of Terry's PTSD this season and this may also get reignited thanks to Patrick's presence.
As you see from the season premiere alone this looks like it will be a jam packed season and hopefully they will be able to keep the storylines somewhat tied together in a cohesive manner. What are you most looking forward to this season?
Watch 3 sneak peeks for tonight's episode "Turn! Turn! Turn!" below. For promo video, photos and episode descriptions head here, here and here.
True Blood season 5 begins tonight on HBO at 9 PM.