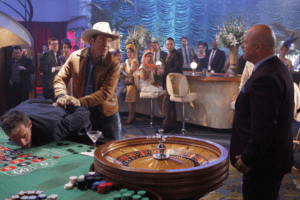 In last week's installment of Vegas we saw just how good Ralph Lamb is as a law man, and got an even closer look at the shadier side of Las Vegas.
The show's second episode began about a week after the pilot with yet another murder investigation, this time with an added twist of a surviving witness.  Sheriff Lamb, along with his brother and son, follow the trail through a series of home robberies before discovering that the murder was actually the result of a classic case of male jealousy.
Down at The Savoy, Vincent Savino is forced to take on a new card room manager — Mia Rizzo, a very smart and ambitious woman.  Perhaps a little too ambitious for Savino.  When Rizzo goes behind Savino's back to change house strategy in the casino, he doesn't hesitate to put her in her place.
Last week's Vegas also gave a slightly clearer picture of the dirty dealing going on, showing that District Attorney Rich Reynolds is most certainly working with and/or for Savino and his boys.
On tonight's Vegas, "All That Glitters": When Mia's father Johnny, a hot-headed mob kingpin with a gambling problem, visits the Savoy, it causes Savino problems and gives Sheriff Lamb a reason to break out the handcuffs.
Tune in tonight for more action and drama in Las Vegas, and to see how Sheriff Ralph Lamb handles the new face in town.
http://www.youtube.com/watch?v=K3s8C6fCgI4
Vegas airs tonight at 10/9c on CBS.