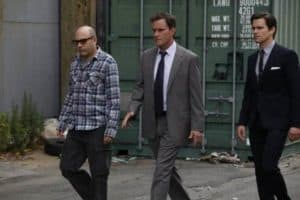 White Collar returns tonight and will resolve the big cliffhanger that they left us with back in August; Elizabeth (Tiffani Thiessen) has been kidnapped by Keller (Ross McCall) and he is demanding the U-Boat treasure in return for Elizabeth's safety. This happens to be the same treasure that Neal (Matt Bomer) has been keeping secret from Peter (Tim DeKay), since Mozzie (Willie Garson) 'acquired' it at the end of season 2.
This web of lies has not only put Elizabeth in danger, but has also put a huge dent in the trust that has built up between Peter and Neal. We have seen how conflicted Neal has been with the weight of this lie, but for Peter this will look like the con man that is up to his old tricks, throw in the fact that his wife is being used as collateral and I think we can expect some fireworks. Matt Bomer spoke to Entertainment Weekly about the impact of this deception and said:
"It's really the most fraught with tension their relationship has ever been. It even gets physical at one point. But in typical Neal and Peter fashion, they find a way to work together and sort of make amends, only to have the tension re-created, I assure you. That's the natural cycle of their relationship, it seems."
This tension can be seen in one of the sneak peeks below as Neal takes Peter to where the treasure was being stored, however Mozzie has since moved it. Neal is fracturing friendships all over the place as he and Mozzie had a falling out over Neal's decision to stay in New York. This disappearance is bad news for Elizabeth as Keller has given them a 12-hour deadline to meets his demands and they need Mozzie to tell them where the treasure is now being stored. Mozzie is obviously very fond of 'Mrs Suit' so I think we can count on him to help out in this time of need, as the promo photo above would indicate. Also does anyone else get flashes of Reservoir Dogs from this promo shot? Just me, ok then…
The relationship and chemistry between Neal and Peter is what makes White Collar such a fun show to watch; this new tension between the pair has definitely expanded this story and now that the truth has been revealed it further adds to this dynamic. Will Peter be able to forgive Neal?
Check out the sneak peeks and promo below for tonight's White Collar mid-season premiere.