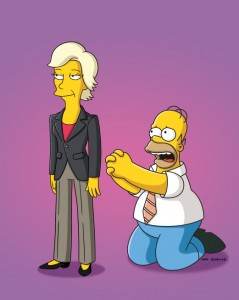 Glee's Jane Lynch makes a move to Springfield in tonight's all new episode of The Simpsons.
The Simpsons children are pitted against each other after the school science fair. Bart builds a mechanical baby seal, which impresses everyone, especially when Lisa only puts together a nerdy asteroid model. Bart's mechanical pet is also a bit his at the retirement home and all the patrons want one.
Homer gets a new assistant at the nuclear power plant, a woman named Roz (guest voice Jane Lynch). Roz is very enthusiastic and eager and soon pushes Homer out of his own job. After losing his job, Homer realizes that Roz has an evil past, so he teams up with Flanders to take her down and reveal the truth about her.
Watch a sneak peek for tonight's new episode of The Simpsons below. Don't miss the new episode tonight at 8:00 p.m. ET on Fox.