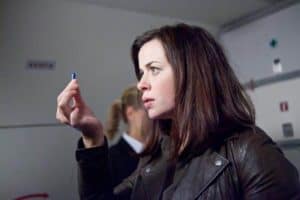 Torchwood: Miracle Day premiered last night in the UK, but tonight the US is going to be getting the second episode of the ten episode season, "Rendition." We've got some promos and photos for you to check out.
So what exactly is happening with "Rendition?" Here's what Starz has to say about the episode: "As the Torchwood team is reunited, Jack realizes he's the most vulnerable man on Earth. A flight to the United States turns into a desperate battle for survival."
It's a widely known fact that Jack's the only mortal person on Earth during the events of Miracle Day, in contrast to his previous immortality. How do we find that out? Well, if you check out the promo photos below, it appears that his plane trip to the U.S. is ruined by a bit of poison, though Gwen has the antidote.
Also check out some promos for the episode below (courtesy of DoctorWhoTV).
"Rendition" airs tonight on Starz in the US. The episode will air on BBC One in the UK on July 21.

Torchwood- Miracle Day – Episode 2 Clip Arrested by doctorwho-tv
[imagebrowser id=1096 template = flipped]