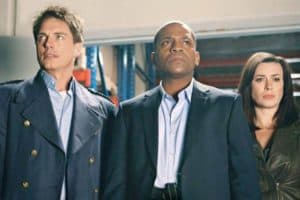 Tonight marks the premiere of Torchwood: Miracle Day on Starz. The first episode of the season, titled "The New World," will air on the BBC in the UK on July 14. But what's in store for U.S. audiences tonight?
According to the press release for the episode, the episode begins with the sudden cessation of death. "People keep aging — they get hurt and sick, but they never die. The result: a population boom overnight. With all the extra people, resources are finite. It's said that in four months' time, the human race will cease to be viable."
Rex Matheson (Mekhi Phifer), an American CIA agent who miraculously survives a car crash that impales him, begins investigating who is behind this event — and he keeps coming back to the secret British institute of Torchwood. His analyst, Esther Drummond (Alexa Havins), works to discover just what exactly Torchwood is.
Gwen Cooper (Eve Myles), the last surviving Torchwood member, remains in hiding. Oswald Danes (Bill Pullman), a convicted murderer, survives his own execution. And when Esther's search leads her to Captain Jack Harkness (John Barrowman), assassin's are suddenly "activated to kill them all…"
"The New World" airs on July 8 on Starz in the U.S. and on July 14 on BBC One in the U.K.